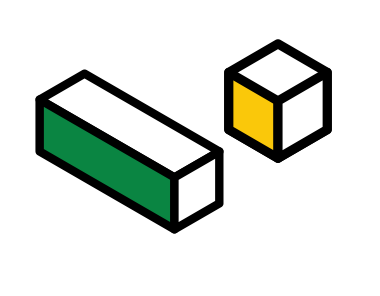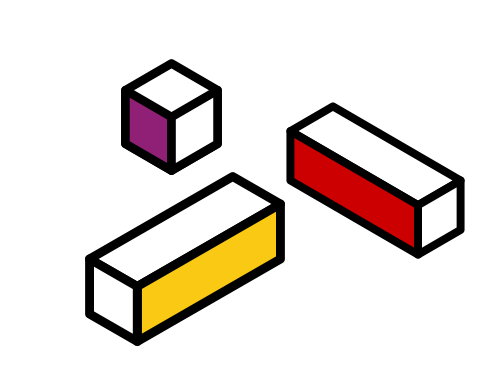 Mobile Marketing for Christmas: How To Leverage The Festive Spending And Browsing Spike (Before It's Too Late!)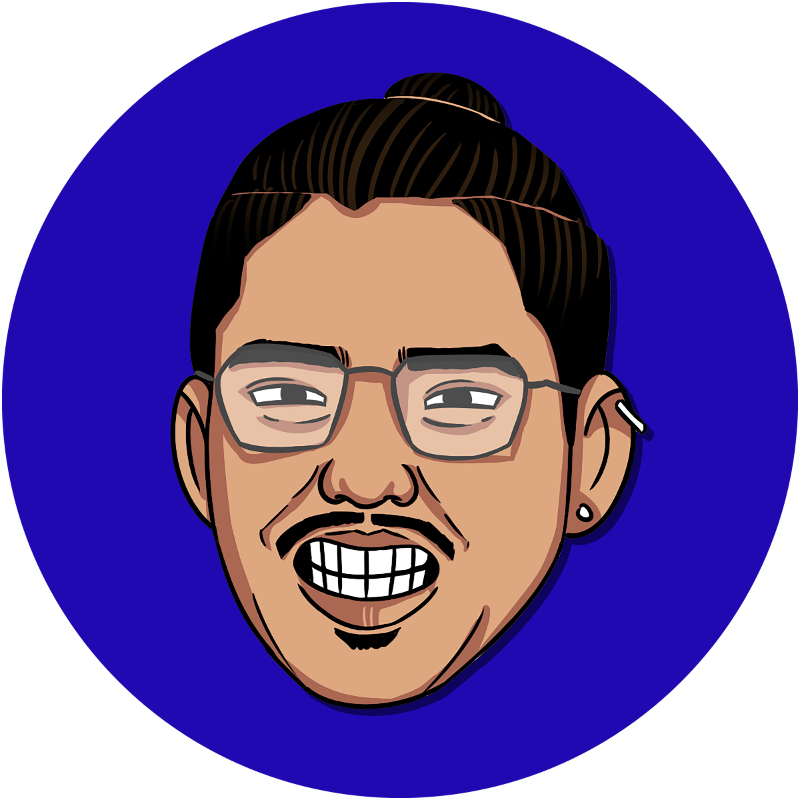 Jan Mascarina
05 Nov 2018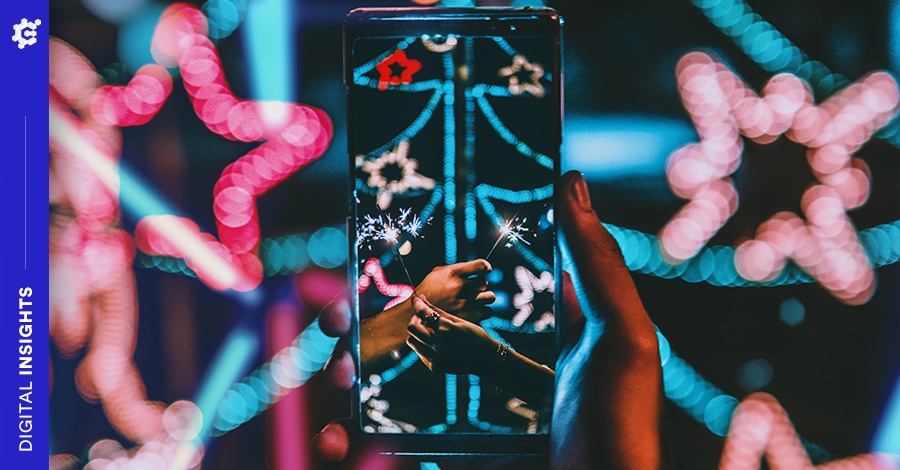 Christmas is the most wonderful time of the year for many people, but especially so for digital brands with content and offerings accessible through mobile. In 2016, Adobe reported that 30% of retail sales came from mobile sites - which isn't surprising given how the segment today accounts for a majority of browsing traffic (62.63% of browsing traffic comes from mobile sources in Singapore, according to our recently-released study).
Why should marketers care about Christmas?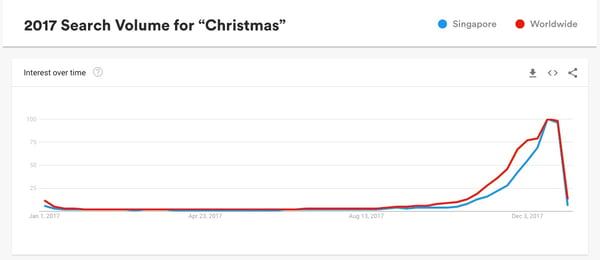 There is a known phenomena termed the 'Christmas Creep' - which, as the Google Trends chart compiled from Singapore and Worldwide data above for 2017 shows, is a period of increased interest and demand leading up to Christmas day, and quickly falling right after. This surge happens annually, and begins in October, intensifying week-on-week.
"Vast majority" of search queries are done through mobile: Google
Google itself has stated since 2015, that the "vast majority" of search queries are on mobile, and marketers should take heed of insights like this to guide their marketing strategies toward maximum efficacy.
Here are 5 ways you can ensure that your mobile-marketing game is on point for the Christmas Season.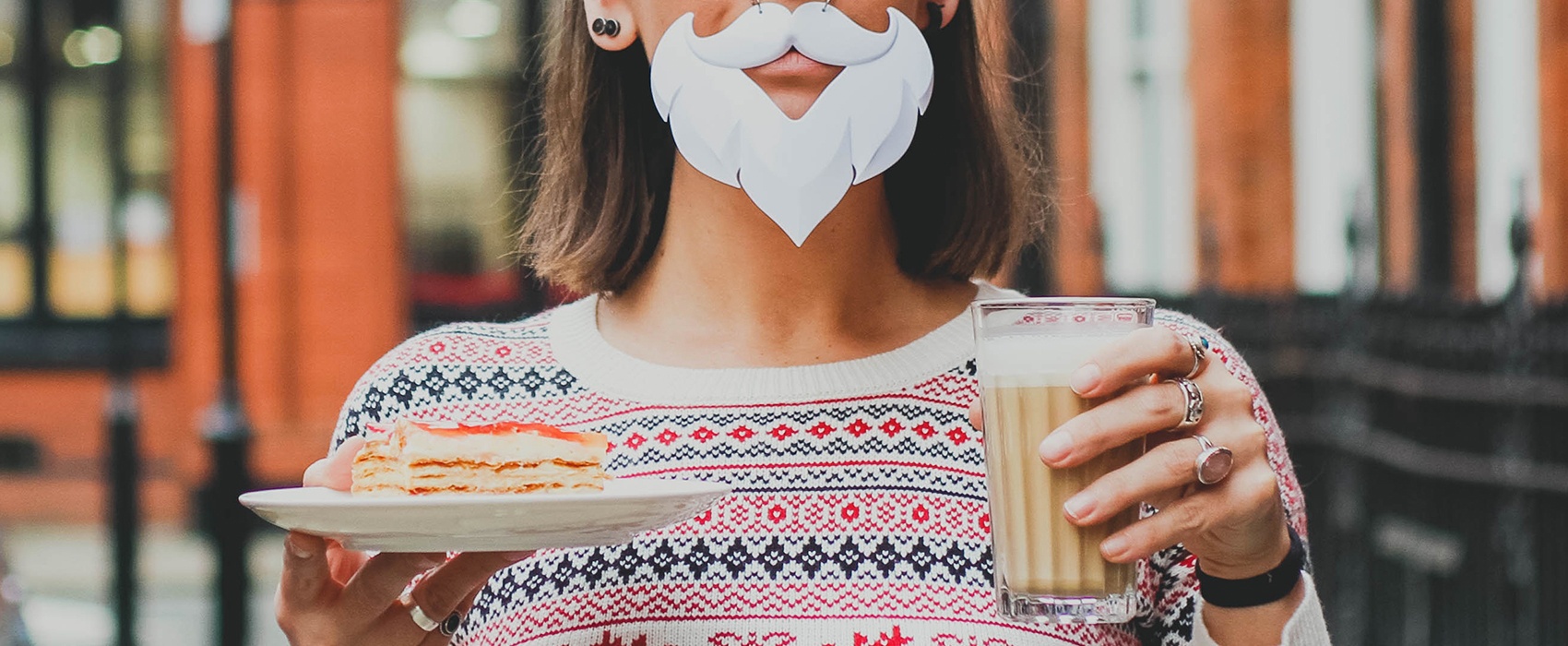 1. Skin your digital assets around the Christmas season
Why should you brand your digital assets for Christmas, won't my brand get drowned out?
There is a known phenomena called the bandwagon effect, where the uptake of beliefs, ideas, fads and trends increases the more that they have already been adopted by others. This is perhaps a driving reason why nothing gets consumers more in the festive mindset (of buying, gifting) than seeing colours and iconography that relates to the holidays. Even simply adding festive attributes to an app icon can result in up to 40% increase in app installs and 9% in conversions! It's best to ensure these aesthetics are mirrored throughout different platforms during this time period not only for cohesiveness but also to prime consumers' mindsets about your brand association.
How can you brand your digital assets for Christmas?
If you have an app, skin your app logo for the festivities. Add a Christmas hat, maybe a snowflake. Or turn your icon red and white. Social images could use a Christmas facelift too - here are some creative ways to add Christmas spirit to your social media. Generally, any digital visual collateral that you're producing, where possible, should also adhere to Christmas colours of red and white as well as Christmas icons to accompany them. There is an amazing free resource of over 110 Christmas icons in a set you can use right now here.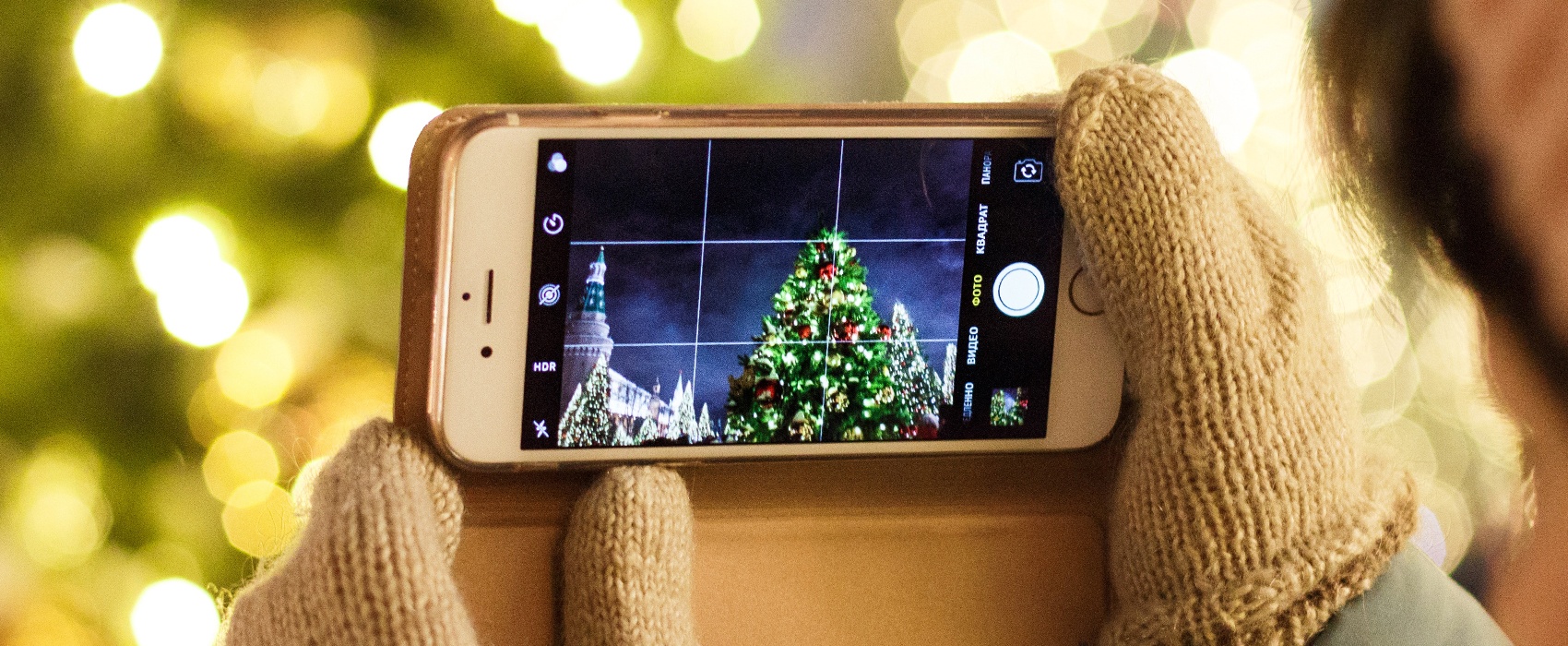 2. Using video as a marketing tool for the holidays
Why should you use video marketing for Christmas, more so than other seasons?
A report from Hubspot Research shows that over half of consumers want to see videos from businesses - more than any other type of content! Videos allow you to to succinctly relay information in a format that is most easily consumed by viewers and those related to Christmas that can appeal to viewers' emotions would definitely gain more traction. With 58% of all videos watched globally were on mobile devices, you can also explore formats that are unique to mobile such as portrait orientation Facebook and Instagram stories.
How do you use video marketing for Christmas?
There are many ways you can tie Christmas to your brand. Here are 3 ideas we've found to be popular, and effective.
- Christmas jingles and songs.
This one's pretty obvious, slap on Christmas Jingles and tunes (many Christmas tunes have today returned to the 'public domain' - meaning you can make interpretations or use them in your marketing collaterals for free). Some of the more popular copyright-expired Christmas tunes include: Twelve Days of Christmas, Oh Christmas Tree, Jingle Bells, Joy to the World, O Holy Night and Silent Night. Note that while these compositions are copyright-free, modern interpretations and covers of them are not! Some information can be found here.
- Christmas video listicles.
Making listicles with your products or brands included in the list. One of the more popular modes of dissemination (and viewing) of listicles is through - you guessed it - video! Whatever you do, always keep in mind to link back your content strategy with your own business objectives.
- 5-second Christmas video ads.
Looking to get the word out on your service or product this Christmas? Try short-form ads that work great with memorable hooks, jingles and visuals. Christmas presents the perfect opportunity to spice up your brand with something that is visually understood almost universally, even if they don't (yet) know about your product or service!
3. Capitalise on in-app purchases for the season
Why should you create Christmas-centric in-app purchases?
Consumers tend to spend more money during festive seasons with online sales predicted to rise 17–22 percent during holidays in 2018, and are thus more likely to make in-app purchases. The Apple App Store also allows for these in-app bargains to be seen right from the store itself, even before consumers have downloaded your app - resulting in gaining new potential customers.
What kind of Christmas-centric in-app purchases can you create?
In general, there are 2 trains of thought you can follow. Products that celebrate relationships (Christmas is about expressing gratitude!), and products that exude the elements of the festive season. For an example, if Airbnb did their version of this, that's both boxes checked.
-
In-app aesthetics.
Premium selfie filters, profile photo frames, emoticon packs… they all provide the user with additional street cred, under the skin of seasonal aesthetics. Mobile games take this to the next level, due to their business nature, so do look at their websites and see how they package their seasonal promos. For reference, consider World of Tanks and
League of Legends
. They do their Christmas campaigns so well, people talk about their Christmas in September!
- Matching items.
Rather than think about Christmas-specific designs, think about products that can be used all year round, and produce them as matching sets. Sets for best friends, lovers, mother-daughters, father-sons. As long as it celebrates relationships
(in
a not-too-cheesy way), you're on the right track.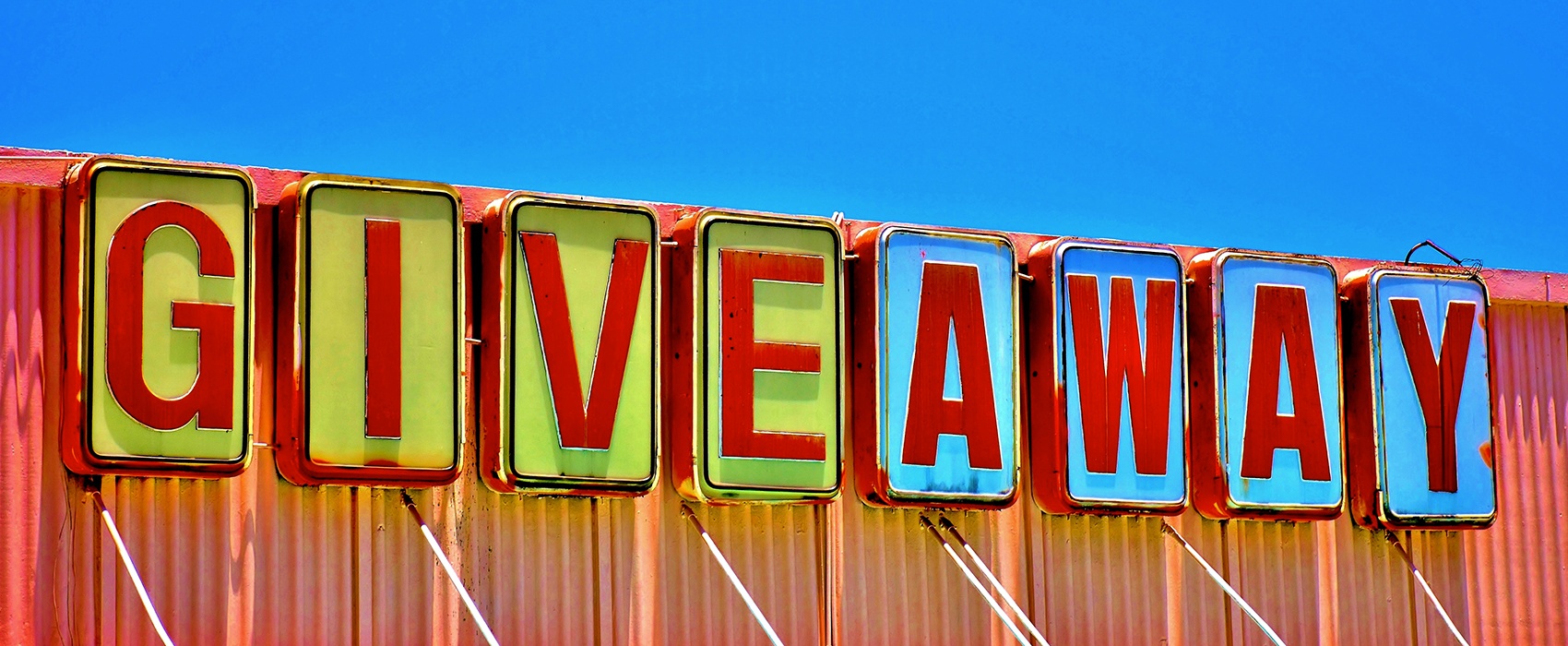 4. Use promotions and giveaways to generate buzz
Why should you use promotions and giveaways to hype your brand during Christmas, isn't everyone doing it?
While there will be many brands rolling out Christmas promotions, 'tis truly the season where people are on the lookout for great deals, either for themselves or the people they care about. Promotions will appeal to their current state of mind; there's far less psychological resistance to deal with. Contests and giveaways are an opportunity to generate hype around your brand, such as our campaign for Giant that went viral. Even if a consumer does not personally require your product or service, they may want them as gifts to others.
How can you use promotions and giveaways to hype your brand during Christmas?
Almost any promotional tactic can be used, really. However, mechanisms and spins that tap on the spirit of giving is more likely to be well-received. Another way to rapidly increase brand awareness and potential customers, is to run contests on social media. Common mechanisms include answering questions about your brand, sharing your posts, and tagging friends. Here's an idea for you:
- "Who would you like to share object x with this Christmas?"
This is an oldie but goodie. Set up a giveaway where the user has to tag a good friend to get an attractive gift to share. It's an opportunity to reaffirm friendships and relationships during the festivities.
Note: Do keep barriers to participation reasonable. The more steps required, the fewer the participants/reshares.

5. Use push notifications during Christmas
Why should I use push notifications for Christmas, won't it annoy my users?
When done right, push notifications are unlikely to annoy your users. Examples of notifications done right are empathetic and useful reminders or deals, that provide valuable information for your users. For example, shipping timelines around Christmas are usually longer, due to the sheer number of gifts being sent around the globe. Why not nudge your users a week before the Christmas delivery cutoff date?

If your e-commerce platform does virtual gift vouchers, you can consider a push for discounted gift cards on Christmas Eve, to save the users who discovered they bought too few gifts. There are many mindful ways to promote your business, but they probably should have this in common: The messages and promotions are immensely helpful. Achieve that, and your pushes will likely be welcomed instead.
What happens if it's too late to start my Christmas campaigns?
With mobile, it's never too late! That is a key appeal of digital (and mobile) marketing - instant pushes, instant results. As long as you factor in enough time to prepare the campaign and deliver the goods, go for it. In fact, if your products are completely digital, there's no reason why you can't do a surprise (i.e. last minute) or 12-days-before-christmas campaign - if you haven't planned anything as yet.
--
While playing up the hype of the holiday season is a great way to generate sales, do keep in mind to retain your brand personality, for this is what will make your campaign unique amongst the pandemonium of the holiday season. Entering the festive fray for the sake of it without a proper and well-thought out approach could be a waste of your resources. For your brand is likely to be drowned out in a sea of reds-and-whites. So, be creative and think out of the 'Christmas' box for your brand!
Some mobile insights to help inform your mobile strategy with some data has just been recently released as a resource here. Definitely check it out before you begin your mobile Christmas conquest!
More insights