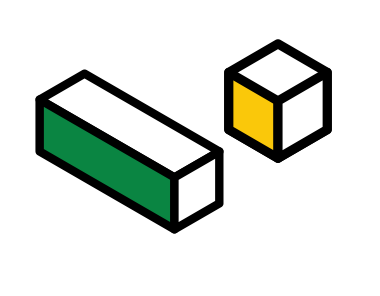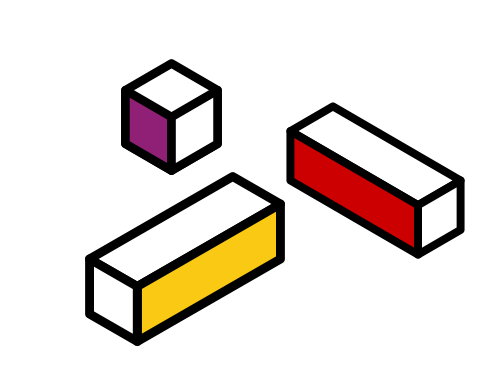 Local SEO: 5 Questions with our SEO Ninja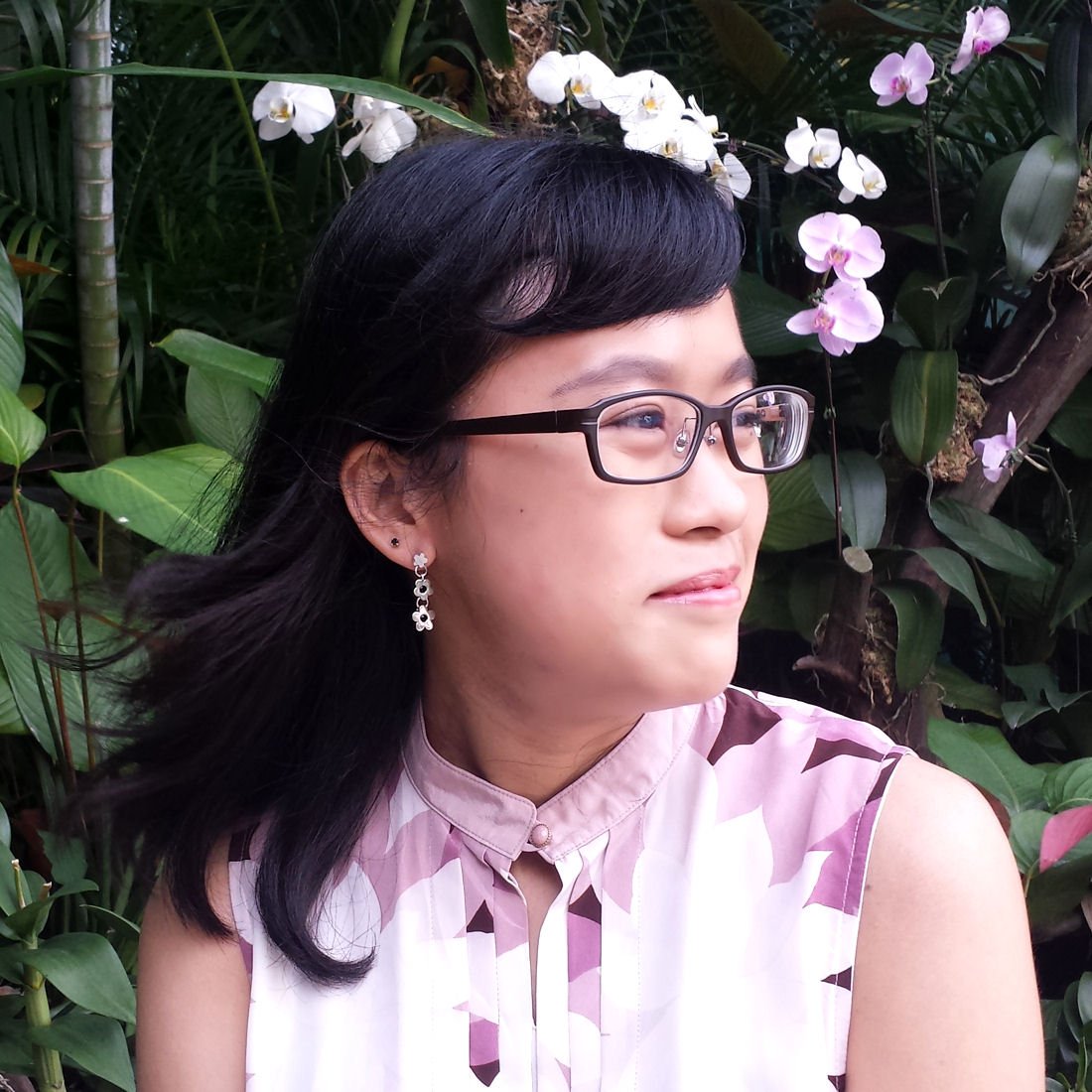 Ying Yi Wan
18 Mar 2016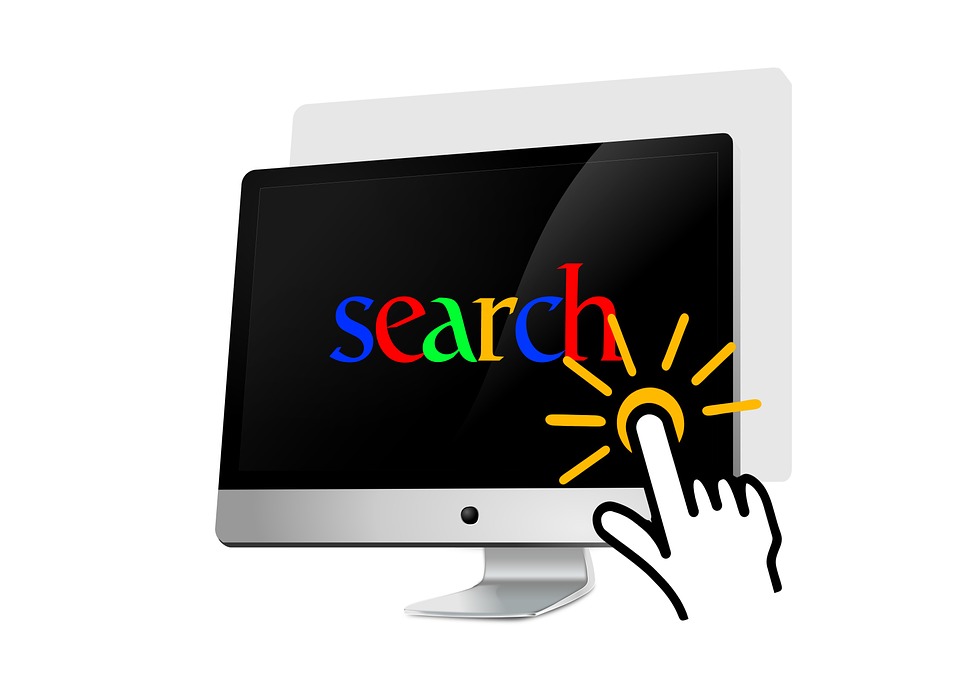 Search Engine Optimisation (SEO) is a key component of inbound marketing. A well-optimised website attracts strangers from search engines and turns them into visitors.
SEO is a dynamic field with ongoing developments on many fronts. However, marketers are often too time-pressed to keep up with what's important.
Enter Nai, our Digital Producer and resident SEO ninja. We speak with Nai on the significant developments in SEO land and how marketers can implement what's important. For this post, we focus on local SEO.
Q1: What is local SEO?

Nai: Local SEO refers to the optimisation of your company website to show up in local search engines. The aim is to have your website ranked for local search engines.
This is particularly important for brick-and-mortar businesses. When someone searches for your shop, they should find a basic citation. This is a mention of your name, address and phone number (NAP)[1]. If your business appears in Google's "local pack"(the three local business listings that are generated for searches with local intent[2]), even better!
Q2: What's the difference between local SEO strategies for B2B companies and B2C companies?

Nai: There are two key differences in terms of content and keywords.
One of the most important aspects of local SEO is website content. B2B-type content is more detailed and reflects the longer buying cycle that B2B businesses have. B2B-type content should educate potential customers at every stage of the buyer's journey in order to nurture leads and close sales.
Secondly, B2B type content has to consider a wider range of stakeholders within an organisation. Aside from the main buyer, the buyer's procurement, sales, C-level executives etc. often have a say in the purchase as well. A B2B website's content needs to cater to the interests of these stakeholders by including relevant keywords. For instance, in an IT company, the business and IT decision makers have different areas of focus: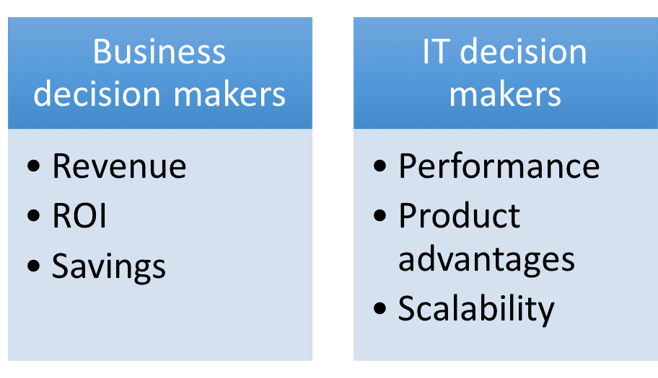 The type of keywords B2B buyers and B2C buyers use differ too. In the B2C scene, there are a lot more keywords. B2C search queries reflect the huge variations of preferences, brands, and styles of products available (e.g. "mid-price women's running shoes", "brown oxfords for wide-feet men", "comfortable high heels for prom"). On the other hand, the B2B markets are normally not saturated with products so B2B search queries tend to be quite broad.
Having said that, in general SEO tactics used by B2B and B2C businesses are mostly the same. We have an updated article explaining how to develop a B2B SEO Strategy in 2020.
Q3: Marketers' SEO understanding may soon have to expand to cover other up-and-coming domains of search beyond browsers. What should marketers have an eye on?

Nai: Mobile search is an important trend to keep an eye on. For mobile optimisation, it is important that your web pages are mobile friendly. Just last year, Google rolled out its mobile-friendly update globally, so sites that are not mobile optimised will lose out in terms of traffic[3].
Social search is another domain that marketers should pay attention to. Major social network sites like Facebook are a treasure trove of information about users and shared by users. These are valuable information about preferences, interests and emotions that are not uncovered by a Google search.For all its popularity as a search tool, Google is not very effective at searches with the aim to discover or get inspiration.
Say, you're someone who wants "wedding ideas" but nothing specific in mind. A Google search will yield plenty of wedding related websites, images, videos etc. Now trying searching for "wedding ideas" on Instagram or Pinterest. You'd get plenty of curated content from other people who are also interested in "wedding ideas". Instagram and Pinterest are therefore better sources of inspiration and discovery as you get ideas from like-minded people.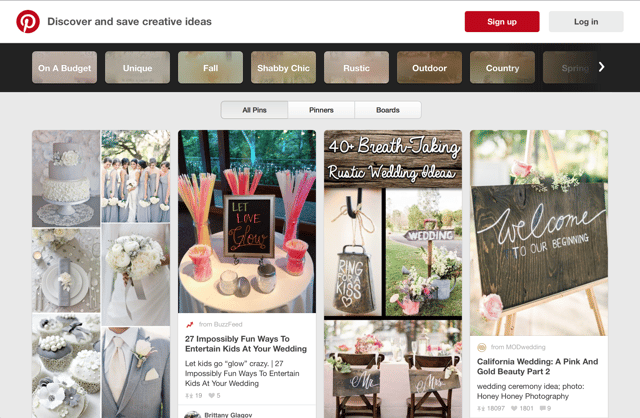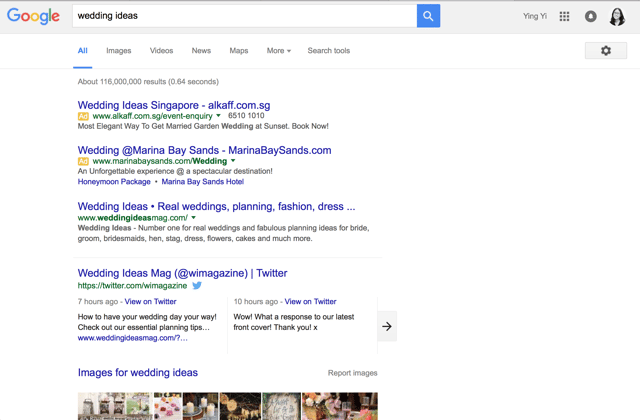 "Wedding ideas" search using Pinterest versus Google
The rest are good to have but not so crucial…for now. Location based search is more relevant for brick and mortar shops and small businesses. Location is usually not a significant consideration for B2B businesses as their target buyers often reach beyond their immediate vicinity. Voice search is catching on but is still not as significant as Google search. Intelligent personal assistants like Siri still have to draw information from somewhere to give users an answer, and Siri's data source is not as massive or rich as Google's.
Q4: Google changes its search algorithms between 500 and 600 times each year, and it experiments with over 10,000 changes in that same time[4]. How can marketers keep up with all these changes and focus on what's really important?

Nai: No one knows what Google is up to (except Google itself!). The SEO community usually uncovers best practices through plenty of experimentation.
I'd advise marketers not to follow Google's movements too closely, as there are just too many developments to keep up with. It's better for marketers to get their information from authoritative industry publications like Moz.
Q5: Finally, are there any tools and resources you'd recommend for local SEO optimisation?

Nai: For keyword research, Google Adwords Keyword Tool is great.
We love to use SEO tools like Moz, SEM Rush and Ahrefs. They are useful for SEO in general, but not so much for local SEO. They focus on the North American market rather than APAC regions (of the three, only Ahrefs has an office in Singapore). In the future, I expect that there will be more SEO tools, resources and services that cater to the needs of the APAC market. If you need help with SEO in Singapore, reach out to us. We can help!
Like what you read? Subscribe to our Digital Marketing Posts for more good stuff!
Credits & Sources:
Header image: Geralt @ Pixabay
[1] Local SEO – The Ultimate Guide (src: SERPs)
[2] Google Updates the "Local Pack" Showing 3 Results Instead of 7 (src: Search Engine Land)
[3] Google Implements Mobile Friendly Update (src: APMdigest)
[4] User Intent will Improve Keyword Strategy Forever (src: Search Engine Land)
More insights