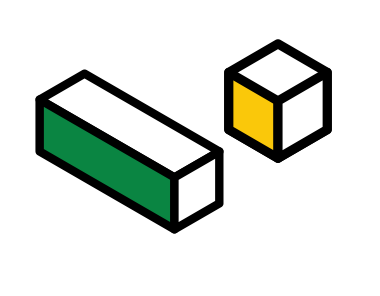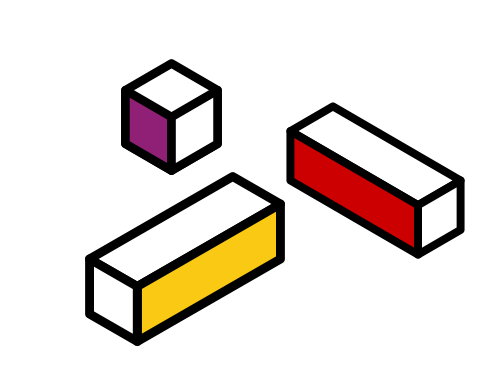 Keyword Research Tools That We Swear By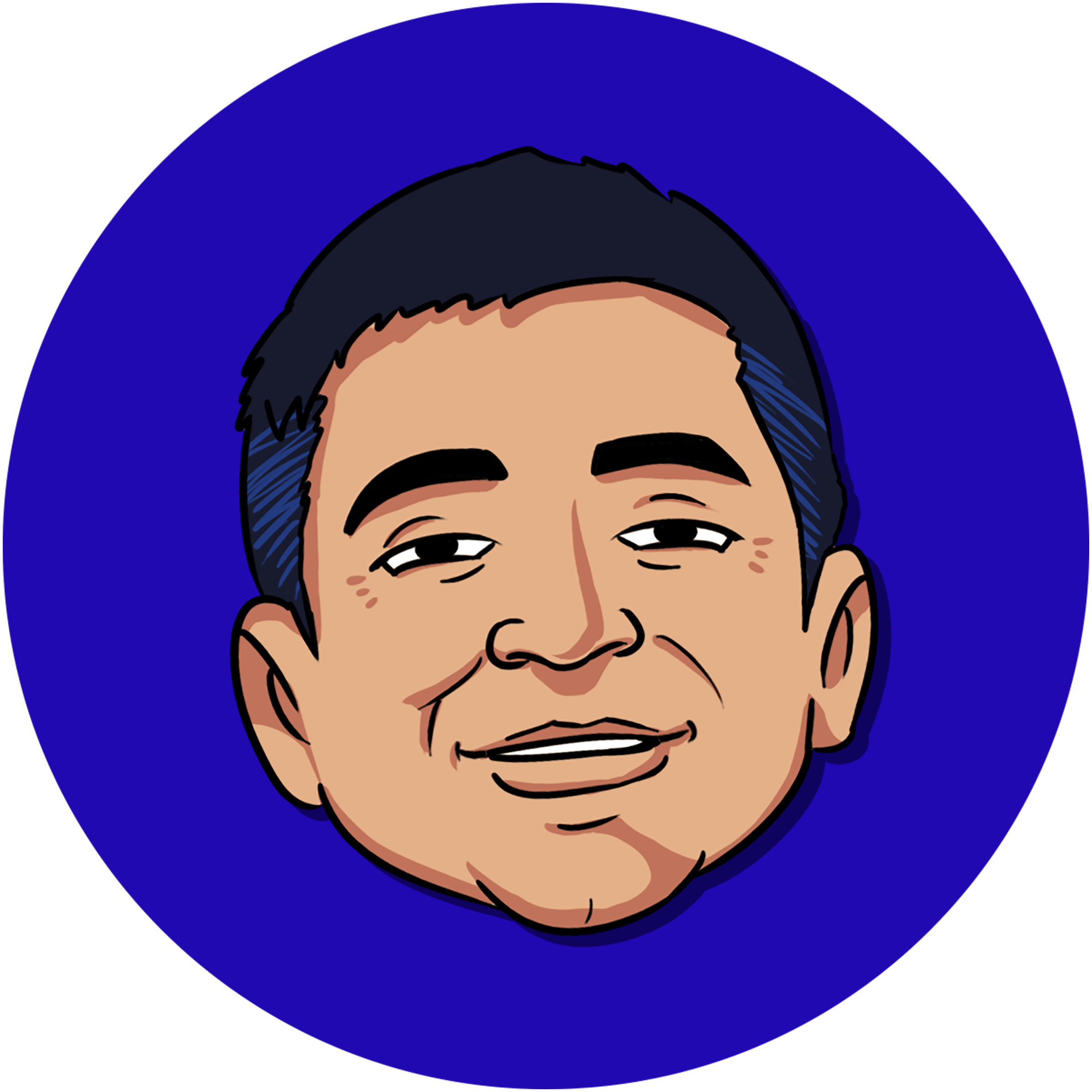 Charanjit Singh
02 Mar 2017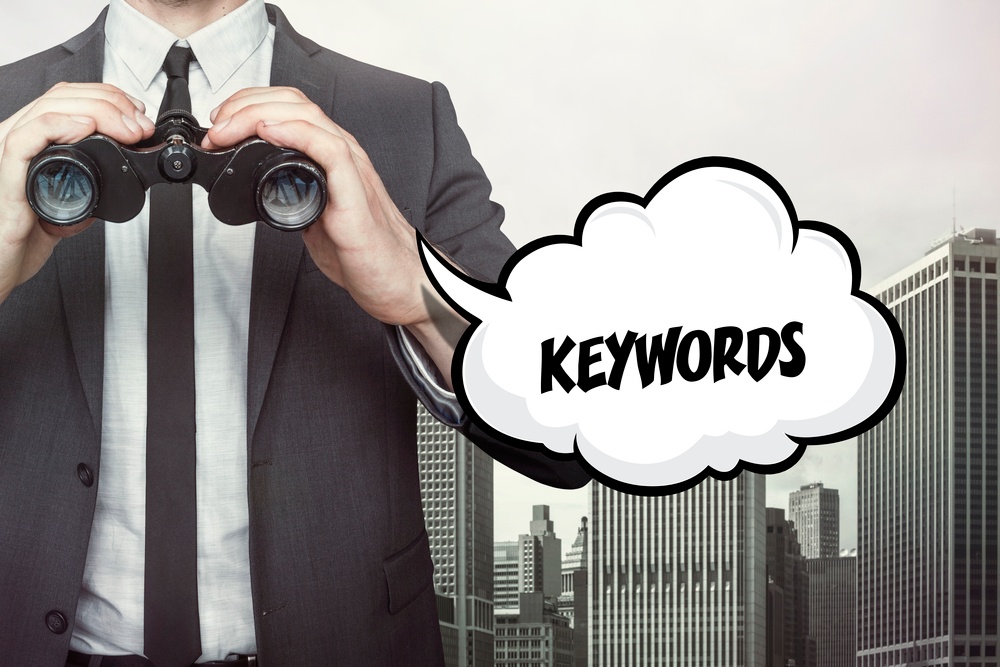 No search engine optimisation (SEO) strategy is complete without keyword research.
The challenge is deciding which keyword research tools to use. Google "best keyword research tools" and you'll get about seven million results. Neil Patel, Brian Dean, and about 60 other marketing thought leaders also have their own recommendations.
So, how do you decide which ones to use?
There isn't one "best" tool. In fact, it's best to use a combination of keyword research tools, because even the popular and expert-endorsed ones are based on limited data and will generate different search count numbers. Also, some tools are more effective for specific types of keyword research than others.
Because keyword research is a big part of the SEO we do for ourselves and our clients, we have our own arsenal of keyword research tools. Try them yourself, but more importantly, experiment widely to see what works best for your business.
For Identifying Long Tail Keywords: Long Tail Pro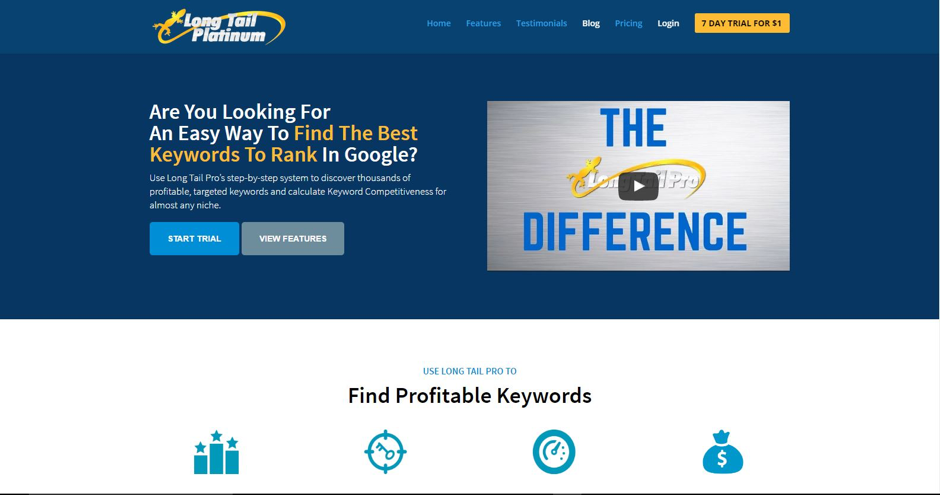 Long Tail Pro specialises in generating plenty of unique long tail keywords, based on a single root keyword or multiple root keywords at once.
What We Like About It
The ability to find low competition, long tail keywords, even in highly competitive niches. Nailing the right long tail keywords matters if you want your content to rank highly. Long tail keywords are specific—meaning, you can target people searching for your product a.k.a. people who are much more likely to buy from you.
Another nifty feature is the Keyword Competition (KC) score, which is a score (ranging from 0 to 100) that combines all SEO data from the top 100 search results to assess the difficulty of ranking for keywords. Knowing the KC score helps you identify keyword opportunities that your competitors might have missed or ignored.
Pro Tip:
Long Tail Pro has some guidelines for identifying which keywords to rank for based on their KC scores. Generally, keywords with KC scores of about 40 or less are not
too competitive. Established sites can try ranking for keywords with KC scores ranging from 30 to 40. Keywords with KC scores of 30 and below are doable for most sites."
— Delvin, Digital Marketer, Construct Digital
Read: 2 Things to Remember When Formulating Your 2017 Strategy
For Identifying Keywords to Use in Our Pay-Per-Click (PPC) Campaigns: Google Keyword Planner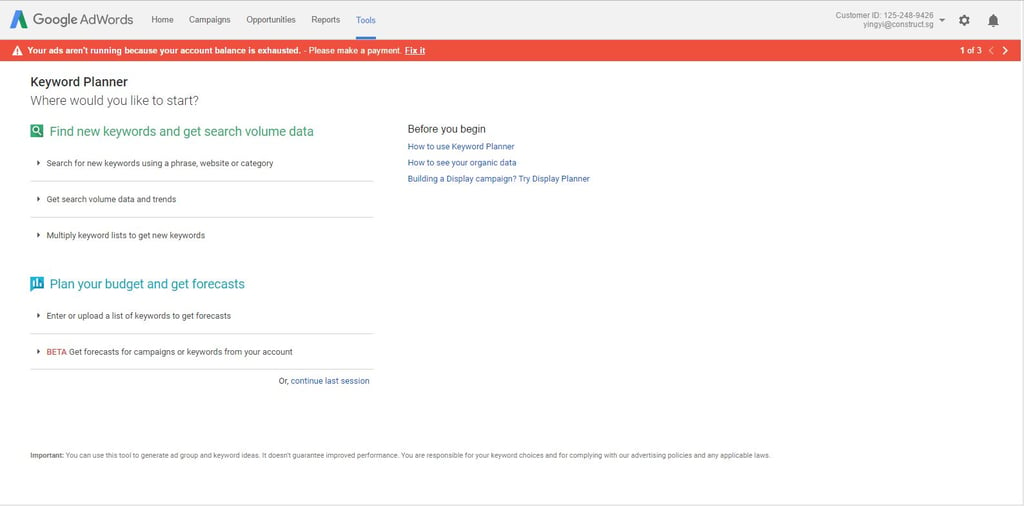 Google Keyword Planner helps users find the right keywords to target for display ads, search ads, and other ads used in pay-per-click (PPC) campaigns. It's mainly meant for Google's paid search customers, but can also be used for organic search.
What We Like About It
When we run our PPC campaigns, we use the "get click and cost performance forecasts" option to get forecasts of traffic on different keywords. Keyword Planner generates predicted numbers for the following:
Number of clicks per day
Impressions per day
Cost per day for those clicks
Pro Tip:
Google Keyword Planner is free to use, but it helps to become a paid search customer who runs active ad campaigns. This way, you'll get more accurate search information. For example, free users will only see a range of average month searches (e.g. 10 – 100). Paid users, on the other hand, receive the exact number of searches per month." — Delvin, Digital Marketer, Construct Digital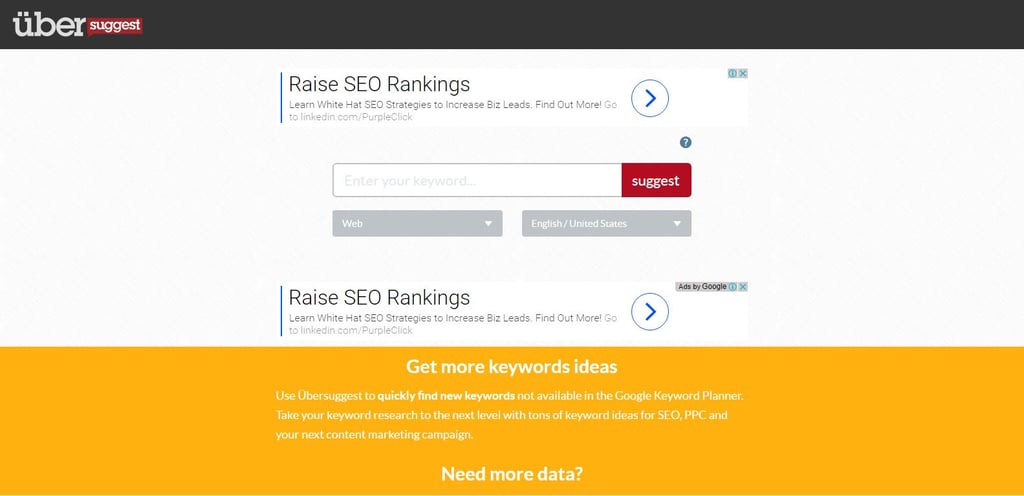 Ubersuggest
Ubersuggest churns out huge volumes of variants based on your root keyword. For example, when you enter the query "flowers," Ubersuggest will give you suggestions for "flowers" plus search terms beginning with "a," "flowers," plus search terms beginning with "b," and so on.
What We Like About It
Ubersuggest has only one main feature: the keyword generator. The keywords UberSuggest generates are real and reliable data extracted from Google Suggest, so you get keywords that people are actually searching for.

Pro Tip:
Use UberSuggest to generate a list of 'comparison' keywords. Say, I wanted to know how a product like SAP compares with similar products. I'd input 'SAP' followed by 'vs.' into the keyword generator and boom, I'll get a long list of suggestions. These suggestions are great for marketing, as your customers are surely comparing your product with others when deciding to buy from you."
— Sam, Content Marketing Manager

Answer the Public
Unlike UberSuggest, Answer the Public does not work by appending every letter of the alphabet to your root keyword. Instead, it provides a richer starting point for content ideas, by appending a root keyword with words like "for" or "with."
What We Like About It
Instead of presenting results in a list or table like many of the other keyword research tools, Answer the Public presents its data in an appealing visual form (see example below). Indeed, this tool will help you answer your customers' questions better.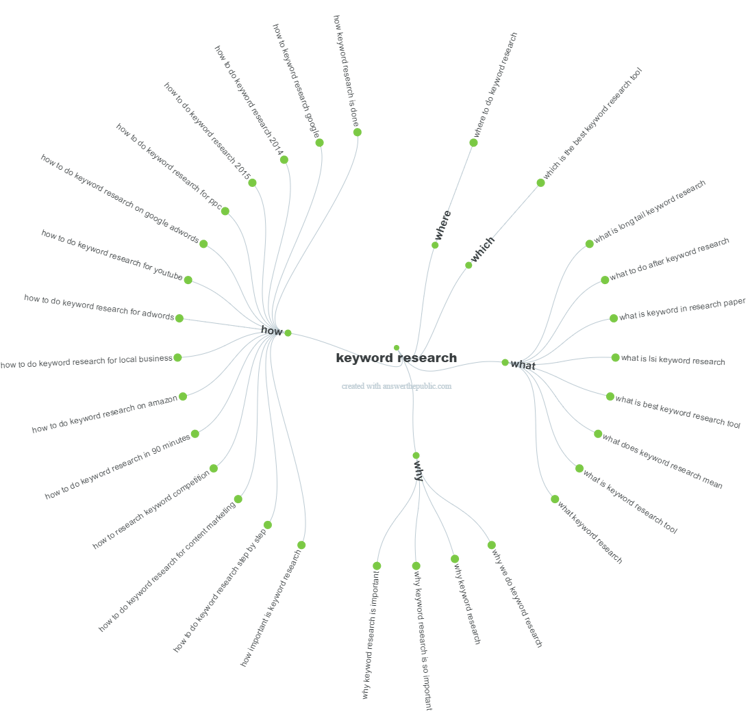 Pro tip:
Sometimes, I use Answer the Public to generate ideas for blog posts. This tool organises its results according to questions that begin with where, which, who, what, when, why, how, and are." — Huong, Content Marketer, Construct Digital
Read: Is the Content You Create a Waste of Time and Money?


Remember: Never Skimp on Keyword Research!
No matter what or how many tools you use, what's important is you do your keyword research diligently. Do it well, and you will be able to anticipate shifts in demand, react to changing market conditions, and create content that your prospective customers want.
Image credits:
Header image: info@crashmedia.fi @ Deposit Photos
Screenshots courtesy of the aforementioned websites
More insights