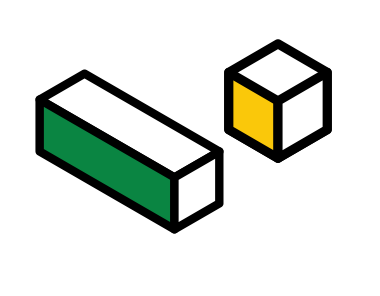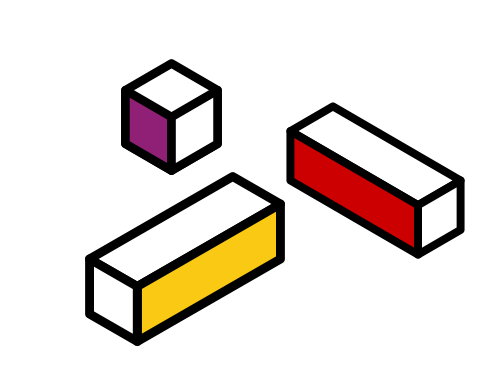 How creating a Buyer Persona gets you qualified leads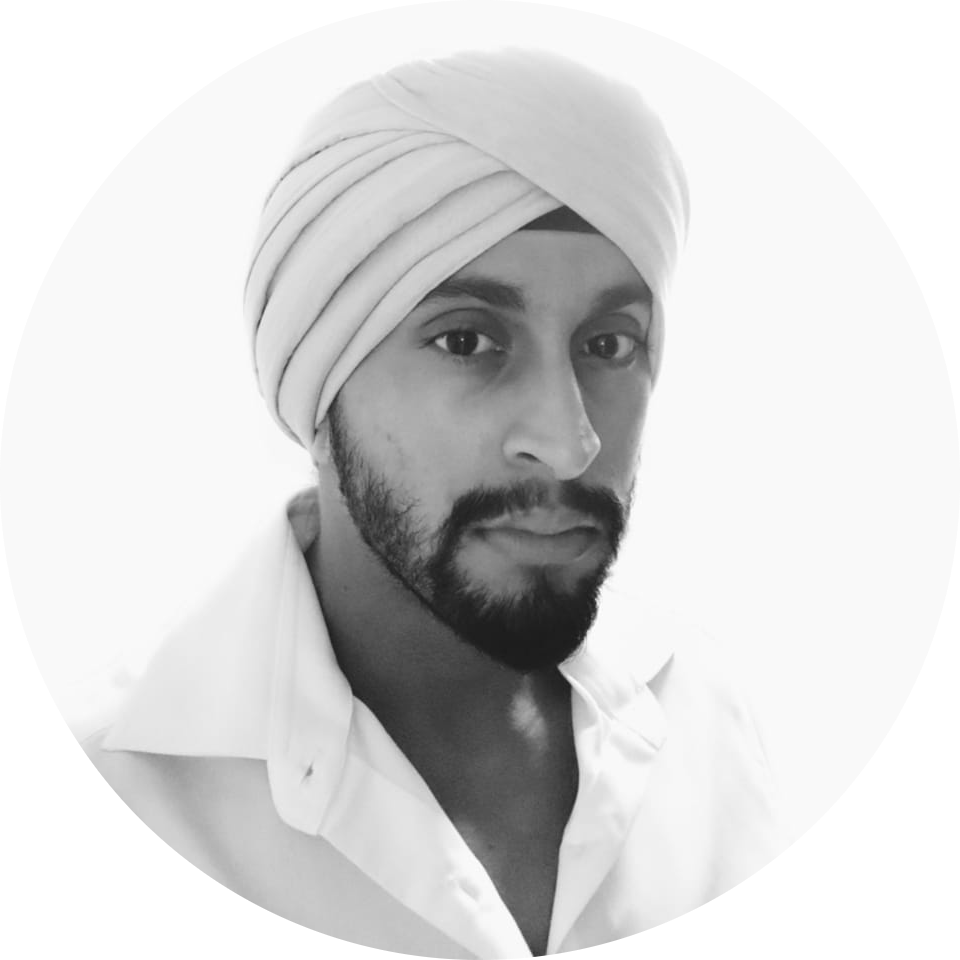 Avnash Singh
13 Apr 2021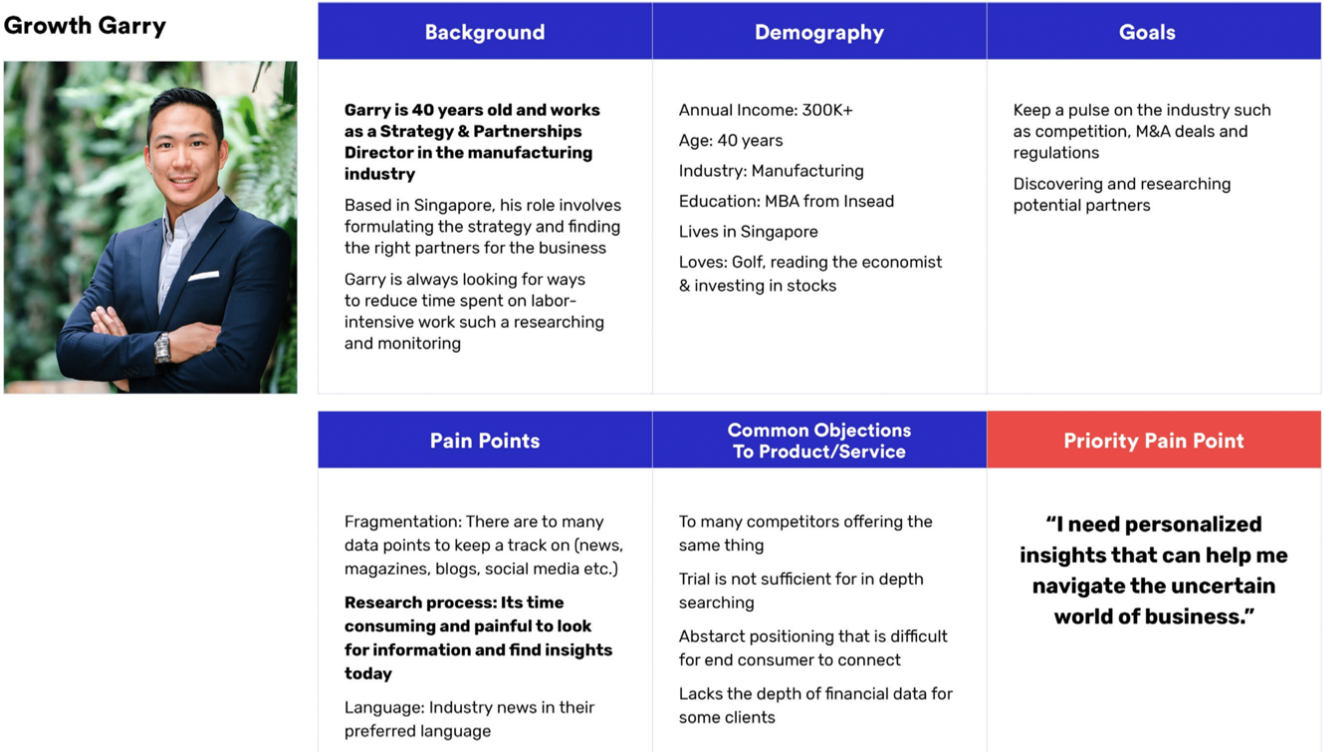 Ask yourself this: Do you really know who you are selling your products/services to? Even if you do, there may be segments of your customers you might not be properly focusing on, and they are costing you clicks, conversions, and ultimately revenue. According to MarketingSherpa, out of all the leads B2B marketers sent to the sales team, only less than 30% are actually qualified. There has to be a better way of increasing the number of qualified leads, without having to spend a lot of time and money right? Yes and the secret lies in using a Buyer Persona.
What is a Buyer Persona?
Think of it as a fictional person that you will create based on market research, who represents and embodies the characteristics of your target audience. You could even have more than one buyer personas, depending on your company. It provides actionable insights about your buyers, helps you empathise with them so that you can do a better job of acquiring and serving them.This creates an experience they are more likely to respond to.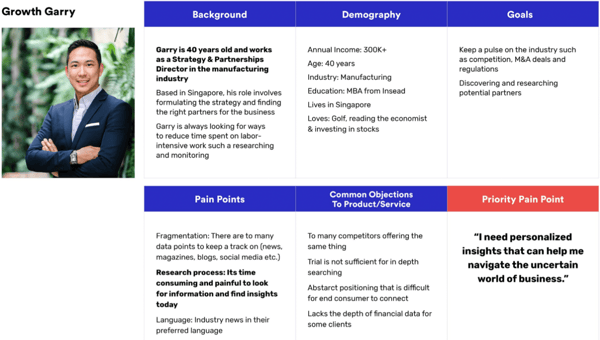 Sample Buyer Persona 1
Why are Buyer Personas Important?
1.Buyer Personas helps you come up with content.
Once you have a Buyer Persona in mind, you will develop a much deeper understanding of your prospective customers. It will eliminate the guesswork of the kind of content your persona will be interested in, fine tuning it to be more targeted and relevant. It lets you understand the pain points that need to be addressed and how your product/solution can come in to solve it. Doing this makes customers feel like you really understand them and gives them a level of comfort with your business.
2. Buyer Personas gets you qualified leads
The best companies around the world that have exceeded their lead and revenue goals have mapped their customer database by personas (Zoeller Stephen 2021). Personas are great as it places content in front of the people you are trying to target. Personas act as a guide that leads your prospective customers down the sales funnel. The more targeted your content, the more qualified leads you will get, which makes your email nurturing campaigns easier. According to Marketing Sherpa, with buyer personas in place, there was an increase in website traffic of more than 200%, Leads went up more than 90% as well as Sales by 120%.
3.Buyer Persona gets you better ROI.
Buyer personas helps you save and maximize your marketing ROI. You would be losing a lot of money casting a wider net targeting everyone instead of narrowing your marketing efforts and budget on an audience that matches your buyer persona. You will see higher engagement, visibility and relevance scores when you customise content for your buyer personas. It was found that ads with lower relevance scores have a higher cost per click than ads with a higher score. Hence the smarter thing to do is supply the right content to the right audience and this eliminates higher ad costs.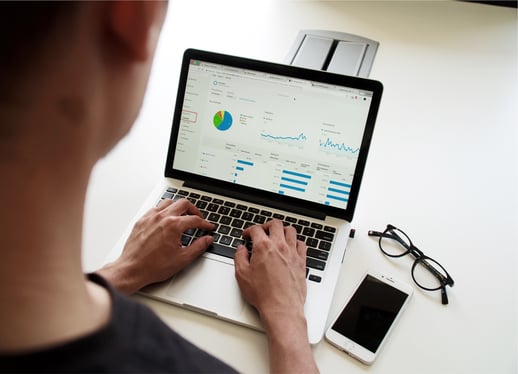 Creating a Buyer Persona?
1.Figure out your Buyer Persona

Acquire the information you need for the buyer persona by understanding their demographics and psychographics. You also need to reach your customers using the right channels. The combination of both sets of data starts to form your buyer persona – a detailed picture of the people you work with now, and would like to work with in the future. Determine each persona's background by filling out the list below.
Demographics:
- Age
- Gender
- Race
- Education level
- Occupation
- Marital Status
- Geographic location

Interests, Hobbies, and Behaviors
Figure out what are your persona's interests and hobbies? What pages do they follow on social media platforms? What activities do they take part in their free time?
Reason for Buying
Figure out the reason why your persona is interested in buying your product or service. For example, you sell a digital marketing solution and your persona is interested in your products because he is looking to boost his business online sales.
Goal of Purchase
Remember to determine the end goal of the purchase. For example, (continuing with the example above) your persona is purchasing the digital marketing solution because he wants to boost sales and have an online presence.
2.Getting the information
The next step is to acquire the information that will build your persona. There are some free and paid tools to collect, aggregate and analyze information.
Existing contacts database, is a good place to start. To uncover any apparent trends about how leads find your content and how customers consume your content.
Social media monitoring tools, like Hootsuite and google analytics gives you insight on brand mentions, relevant hashtags, mentions of your competitors and general trends that apply to your industry. Once you know what your audience searches for, you can adjust the content you create and your messaging so they match the interests of your buyer persona.
Conduct interviews for customers, to find out feedback about the brand or service so far. Entice your customers with incentives like a discount, a gift, or a feature. You could also get in touch with former customers to provide insight as to why they withdrew from the product/service and which solution they are using now.
Customer service team can let you know what kind of questions get asked the most and insight for pain points. Identify patterns about which groups tend to face different kinds of challenges.
Sales team on the other hand can let you know what your customers are trying to achieve by using your products and services. They are the ones that deal with them throughout the Buyer's Journey. To add depth to your Buyer Persona you can include real quotes or tactics your sales team used to overcome buyer objections.
3.Compile & Categorise
Identifying trends and picking up on similarities, would be the next step after researching. You can develop at least one primary persona so far from the information you have gotten. You can categorise them into Goals, Pain Points, how they seek information and where they go to find it. The more personal you can make your messaging, content and outreach, the better the chances of getting them at the end of the day.
4.Target Buyer Persona's problems
Now after figuring out your customers pain points and goals, it is time to present your products and services as the answer to their problems. This is why buyer persona comes in handy as now you are able to see your brand from their perspective. Some questions to ask would be
1.How your products and services benefit them?
2.How can you help overcome purchase barriers, if there are any?
3.Where are your customers at in the buyer's journey?
5.Create your Buyer Personas
It's time to tie everything together to build your persona. Give your persona a name, a job title, characteristic, pain points and goals. You want your persona to seem like a real person and it has to represent a segment of your customer base.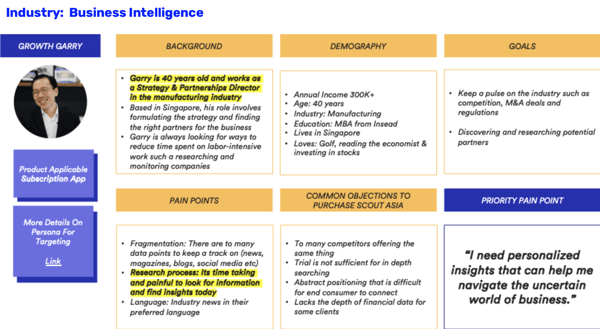 Sample Buyer Persona 2
Here's an example above, wouldn't it be alot easier to speak to Garry in mind rather than someone in general looking for a research tool. We are now able to understand Growth Garry's concerns and this allows us to start thinking about how our products and services can help him achieve his goal.
After you have defined your buyer personas, you can curate social ads and posts that speak to them specifically. You can add descriptions that speak specifically to this group that will make their buying experience personable and memorable. This allows for customer retention and brand loyalty. Additionally you would have identified the social platform they frequent, and posting there will increase the chance of your target audience engaging with the post. It's important to pay attention to the tone as well, buyer persona reminds you to think about them as real humans reading your social posts and engaging with your content.
Give it a try! We would like to invite you to create your own buyer personas with the FREE template and examples we provide in the Inbound Marketing Playbook.
Final Thoughts
Personas help you understand your ideal customer's needs, wants and behaviours better. Once you have figured out your ideal customer, the better you can target them with personalised content and that too in their preferred space. This way you draw your customers to you rather than pay to advertise to them. Not to mention saving on cost and time which could be put to better use like research and product development. Creating buyer personas is an important first step of a successful inbound strategy. Download our FREE Inbound Marketing Playbook which includes our comprehensive guide on everything you need to know to develop your own inbound marketing gameplan in 2 weeks!
More insights