You've developed great blog and whitepaper content. You've search engine optimised all of your work, and harnessed social media to spread the word. Your Digital Marketing is doing such a good job that hordes of prospects are beating a path to download your whitepaper.
Woohooo! Time to break out the champagne!!!
Wait!
Hold your celebratory horses. The work isn't done yet.
This is when your stakeholders (i.e. your boss) want to see a clear ROI on your marketing efforts. Now that you've acquired all these leads, they will want to know how the leads can become customers to drive revenue.
Therein lies the almost-million-dollar question: how do you follow up with this deluge of leads and nurture them for positive Marketing ROI?
Don't Bleed the Leads and Drop Your Marketing ROI
A 2015 study conducted by Teradata found that only 39% of organizations are reaping significant business benefits (e.g. increased ROI, stronger customer loyalty, and greater sales conversions) from acting on customer data. (src: Forbes)
Don't be one of the other 61%.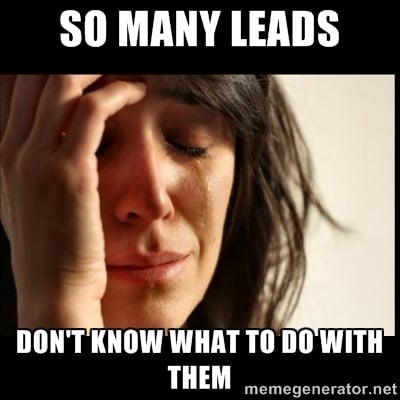 It can be difficult to nurture every lead into a customer. After all, it's almost like giving each knock on the door your undivided attention. However, the lack of proper lead nurturing can negatively affect your marketing ROI.
For example, premature passing of new leads to the sales team may cause them to end up being discarded due to lead unresponsiveness.
The impacts on marketing ROI are
Your Marketing Influenced Customer Percentage* drops
That means your nurturing efforts have no effect whatsoever.


Reduced pool of potential customers.
This increases your Customer Acquisition Cost (CAC)**. The one cost that you want to bring down and not elevate.
* More about this ROI metric in The 6 Marketing Metrics Your Boss Actually Cares About eBook
** More about this ROI metric in Always Get The CAC
Marketing Automation Can Help Ward Off These Problems
Marketing automation is essentially software that monitors leads and automatically engages with them. Aside from freeing marketers up from repetitive lead nurturing tasks such as data entry and email marketing, there is also evidence that marketing automation improves Digital Marketing ROI:
80% of marketing automation users found that their number of leads increased, and 77% saw a rise in the number of conversions (src: Venture Beat)
58% of top-performing organizations (where marketing contributes more than half of the sales pipeline) use marketing automation (src: Forrester)
You'll find more stats by Googling "Marketing Automation". For now I want to turn your attention to how Marketing Automation can successfully help your lead nurturing with three features:
Follow-up Emails that builds upon the content that they received. They usually include a call to action to bring them back to your website.
e.g. "Click here if you are interested to know more about <this topic>"


Lead Segmentation on your leads' actions and preferences. This action (lead segmentation) identifies different leads profiles for one sole purpose – super Personalised Messages and Content – much like a hotel concierge who fulfills your likes before you need it.
Lead Progress Monitoring of follow-up efforts. Once the leads hit a Lead Score threshold, they'll be hot as pancakes off the griddle. That's when you pass them to the sales team for a call, chat, and closure.
These three automated features, although simple in principle, are remarkably powerful when taken together. They work hand-in-hand – with very little fuss, I might add – to nurture your new-found leads into customers, and once that happens, up goes your return on Digital Marketing!
What Marketing Automation Software Works For Me?
It needs to fit with your company's existing capabilities and needs. Some common considerations: Your goals, industry and company size. Going into these considerations is another post by itself. [ed note: More on it later! :p]
For now, here's our shortlist of four well-known Marketing Automation software.
| | | | | |
| --- | --- | --- | --- | --- |
| Marketing automation software | Description | B2B or B2C | Customers | ROI Reporting/ Measurement? |
| | Inbound marketing software platform that assists businesses in transforming their marketing from outward lead generation to inbound lead generation | Both | SMEs, enterprise marketers, agencies | No |
| | Easy to use platform that helps marketers improve marketing accountability and drive revenue | Both | Mid-market to enterprise-level B2B and B2C marketers in various industries | Yes |
| | Offers seamless integration with Salesforce CRM and helps marketers drive revenue and maximize efficiency | B2B | SMEs and enterprise-level B2B organizations | Yes |
| | Launches automated marketing campaigns while delivering personalized customer experiences | B2B | SMEs and global enterprises in various industries | Yes |
When All's Said and Done...Don't Forget Your Objective: Always Improve Your Marketing ROI
Hopefully, we have shown that increasing your marketing ROI with lead nurturing tactics and Marketing Automation isn't so daunting at all. But as with any technology, Marketing Automation is simply a means to an end.
It makes the lead nurturing process more streamlined and efficient. But the onus is still on you, the marketer, to lay the groundwork for your campaign's success, such as by developing effective strategies and producing quality content.
Remember – nothing beats a good plan, vision, and clear Marketing ROI metrics.
Like this blog post? Download our Marketing ROI Report Template or subscribe to our ROI in Marketing series.
Image generated via Meme Generator.