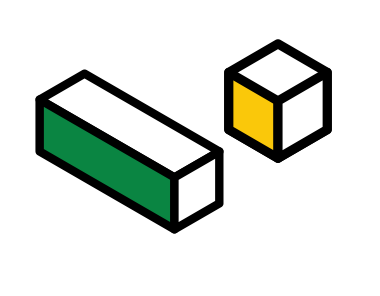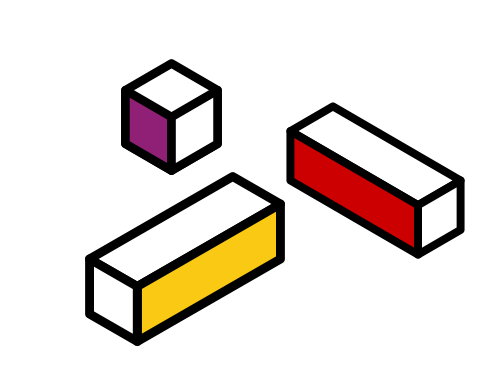 How to Map your Customer Journey to deliver the best B2B Customer Experience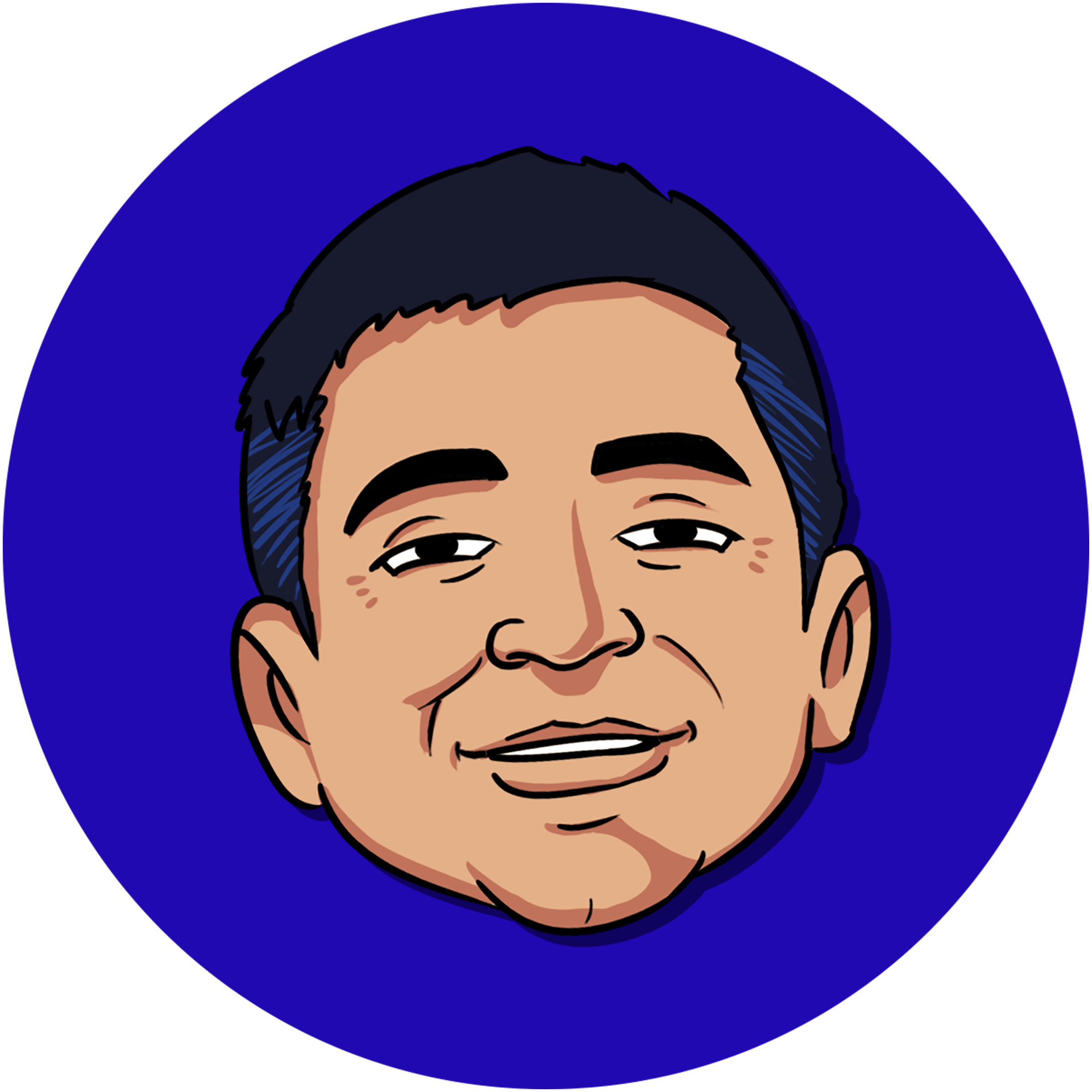 Charanjit Singh
06 Mar 2022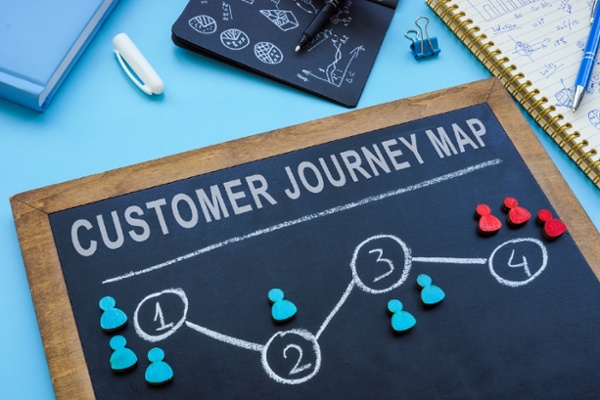 Customer journey mapping is a process of understanding the customer's experience with your company, from when they first hear about you to when they become a returning customer. Mapping out the customer journey can help identify areas where your company can improve the customer experience and increase sales. There are three main steps to creating a customer journey map: gathering data, organising data, and creating a map.
To gather data, you'll need to interview customers and employees, review customer feedback, and analyse website and marketing data. Once you have gathered all of the data, it's important to organise it into the main stages of your Customer Lifecycle that shows how the customer interacts with your company. Finally, use this information to create a Customer Journey Map that will help you visualise the customer's experience.
By understanding and mapping out the customer journey, you can make informed decisions on how to improve your company's B2B Customer Experience. Creating a great customer experience should be a top priority for any business, and mapping the customer journey is the first step in achieving this goal.
Creating a Customer Journey Map is a key initial step in transforming your Customer Experience.
Step 1 - Put Customers at the Center of Your Data Strategy
The first step to delivering the optimal Customer Experience is to put customers at the center of your strategy. This may sound like a no-brainer, but you would be surprised how many businesses make decisions about their Customer Experience without taking into account what their customers want or need.
Engaging your customers and delivering experiences that they expect requires empathy and a thoughtful approach to your Customer Experience strategy. A well-formed strategy can help you achieve a few specific goals. For example:
- Getting a 360-degree understanding of your customers

- Fine-tuning your product line and services to meet customers' needs

- Improving your customer service experience
Make sure that you involve your customer-facing teams in your strategy and planning. They are the ones who have the most direct interaction with customers and will be able to provide valuable insights about what they want and need.
Your Customer Experience strategy ultimately drives your data architecture. But what is data architecture? Well, it defines:
- What data your company processes and collects.

- How your company stores that data.

- How the data moves throughout your organization
An effective data architecture formalises your company's data management strategy. We're talking about the movement of data between your departments, such as IT and Sales, as well as the apps that your business relies on, like a CRM system and an automated marketing program.
Consider your data architecture to be the glue that ties your company's business strategy to its technological implementation.
Step 2 - Collect Data from all Sources
The second step is to collect data from all sources. This may include data from your website, CRM system, marketing automation platform, social media, and surveys. You will also need to include third-party data that is relevant to your customers, such as demographics, interests, and purchase history.
The more data you can collect, the better. But be mindful of the fact that not all data is created equal. Some data is more important than other data. The key is to focus on collecting high-quality data that will be most useful to your business.
Once you have collected all of your data, it is time to consolidate it into one central location. This is where a CDP comes in handy. A CDP can help you clean and normalise your data so that it can be easily analysed.
Sometimes it can be hard to make sense of all the data you're collecting, so if you are looking to be customer centric in your approach, it is wise to visualise your Customer interactions to help prioritise which data is more important/relevant to your objectives.
Step Three - Visualise Your Customer Interactions
To help you Visualise you Customer interactions, we recommend mapping your customer interactions with a Customer Journey map. This Customer Journey represents a typical customer experience with your company.
As an example, the Customer journey will help you capture how your customer:
- Becomes aware of your products and services.

- Places an order.

- Learns more about your company's brand and offerings.

- Talks to a service agent about returning an item.

- Buys products and services from your company again and again.
You can use the template below as a guide when thinking about the various stages of your Customer Journey. Customer journey mapping is important today because Customer expectations are rapidly changing for all businesses, regardless of size – customers today demand an omni-channel approach to customer service, marketing and sales.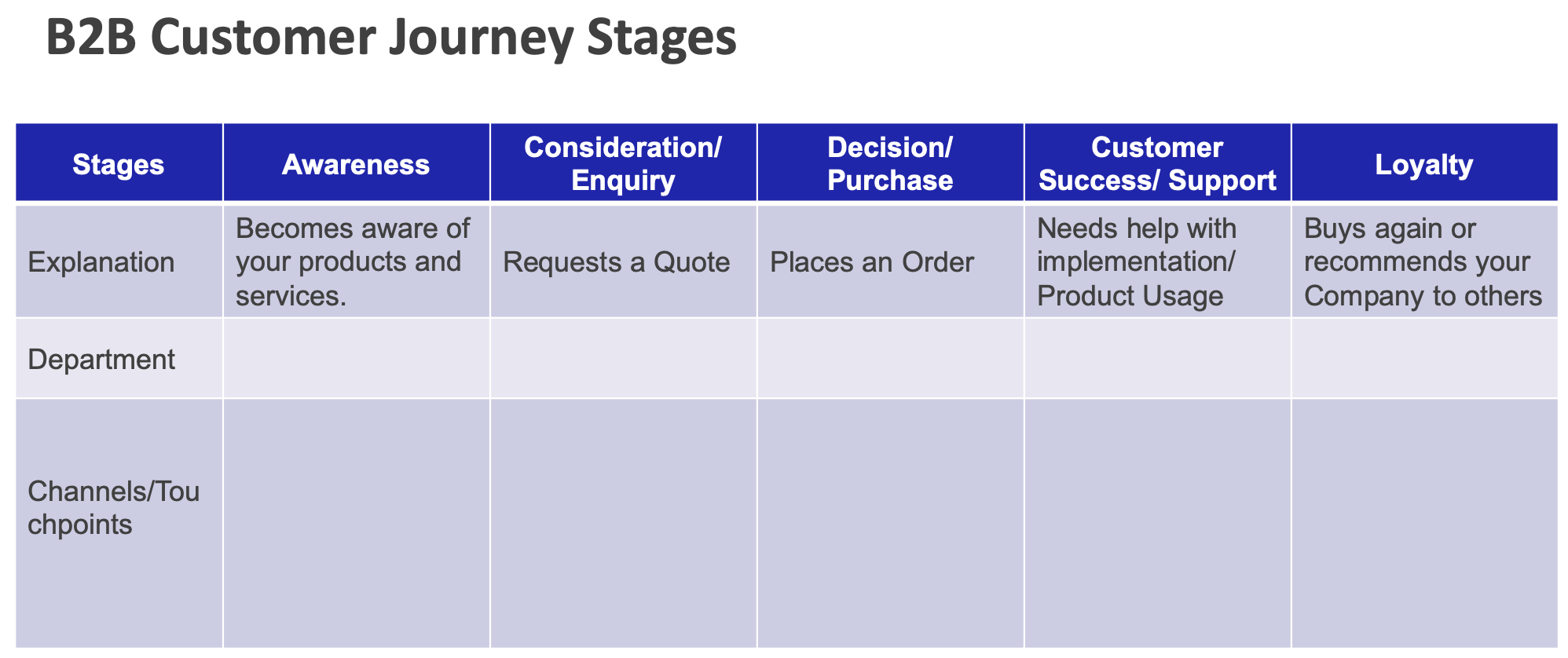 Step Four - Create a Customer Journey
Planning your data architecture can seem like a daunting task, but it doesn't have to be—especially by following this guide.
Benefits of creating a Customer Journey
As you go about creating your Customer Journey, it's important to take input from all relevant stakeholders. This will not only help you better understand your customer touch-points, but as you develop your data Strategy, this Customer Journey will be an important asset to help your stakeholders visualise your strategy and provide feedback. Here are some benefits you can derive from mapping your Customer Journey:
- Establish relationships with stakeholders who are undoubtedly invested in your own journey. That's fantastic since you can fine-tune your journey to better capture and plan for the experiences that you want consumers to have with your company.

- Ensure that Customers will be in the driver's seat of your business's vision for the experiences you want to provide.

- An in-depth knowledge of your customer engagement touch-points, as well as personnel and partner needs.

- Refocus teams on your customers. Companies frequently become overly focused on other tactical projects, such as website development or search capabilities. It's preferable to start with and test your customer journeys first. You'll be able to see and address gaps in offerings and services, which will have a beneficial impact on future initiatives at your firm.

- Understand and highlight any changes in customer purchasing behaviours.
Its important not to attempt to boil the ocean when it comes to mapping your Customer Journey. You should start small, and then make incremental improvements as you speak with more stakeholders.
Tips for Mapping your Customer Journey
1. Keep your customer journey realistic. Specifically, keep it:
- Simple. Focus on one type of customer, such as a consumer, a partner, or a business buyer.

- Comprehensive. Include multiple functional views, such as Marketing, Customer Service, and Sales.

- Real. Focus on defined engagement channels, such as social media, email, and your website or portal.
2. Identify your stakeholders and subject-matter experts. Include executives and individuals with a stake in the engagement touch-points so that you may learn about their experiences and offer input. Organise meetings, interviews, and user studies.
3. Take stock of your customer interaction touch-points. Specifically,
- Identify how a customer engages with your company. For example, customers can engage with service agents or sales associates using a live chat feature on your company's website.

- Identify whether any key transactions take place, such as when a customer signs up for a promotional email or places an order on your website.
4. Highlight any problems or obstacles that prevent your consumer from being entirely committed to you. A restocking fee for returned items, for example, or lengthy manual approval processes are two examples of this.
Step Five - Research Customer Pain Points and Prioritise Your Business Goals
Once you have mapped your customer's experience to better understand the obstacles that your customers can encounter, you can use those obstacles to drive your data strategy. Next its time to figure out where in the journey—which obstacles— to focus on first.
Your architecture strategy doesn't have to start at the beginning of the customer journey. Instead, you should evaluate and prioritise the opportunities for improvement.
Let's take the case of one of our clients, who were attempting to digitally transform their entire business operation from Marketing and Sales to Customer Service and Field Operations. In this case, after conducting a high level Customer Mapping exercise, we decided it would be best to focus at the start of the customer journey as they had outdated Marketing and Sales channels that were not in sync with current Customer expectations, thus improving these would return the greatest return on investment to the client and their customers in the short-term.
Step Six - Use Research to Guide Your Journey
Now that you have established the focus on your project, its time to get into some deep digging into your Customer current experience with the Marketing and Sales channels. As in the example above, we interviewed the marketing teams to understand:
- The overall Marketing Processes adopted within the organisation.

- Key touch-points most often used by Customers and how Marketing and Sales managed these

-Delays and inefficiencies in the Sales quotation process.

- Identify how a customer engages with your company, for example through social media, email, or live chat.

- Take stock of the key transactions that take place during the customer's engagement
Step Seven - Puttin' It All Together
Ultimately modern Customer Experience require a multitude of Digital touch-points, so it's expected that IT will need to get involved at some stage.
This will require the development of a robust Data Architecture, as well as the implementation of digital systems that internal teams and Customers will interact with.
But don't despair, we've got you covered. In our next post, we'll provide a step-by-step guide on how to develop your Customer Data Platform data strategy that will help you close the gaps in your digital customer experience. Stay tuned!
In the meantime, if you would like more information about how we can help get you started on your digital transformation journey, please reach out to us at info@construct.sg or schedule a call with one of our experts!
More insights