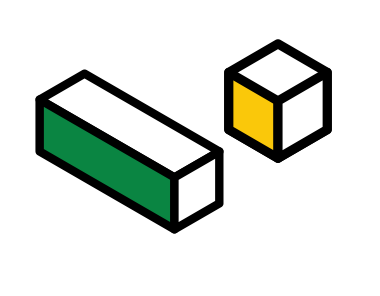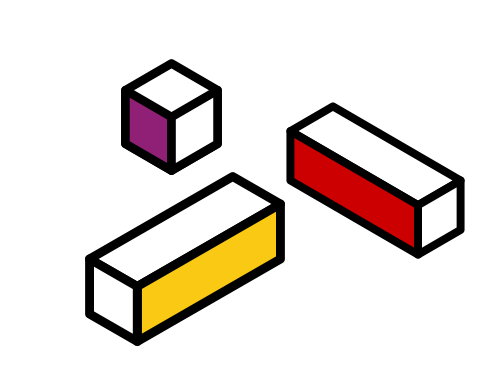 Domain Registration in Singapore: The Complete Guide
Ng Wei Leen
25 Nov 2016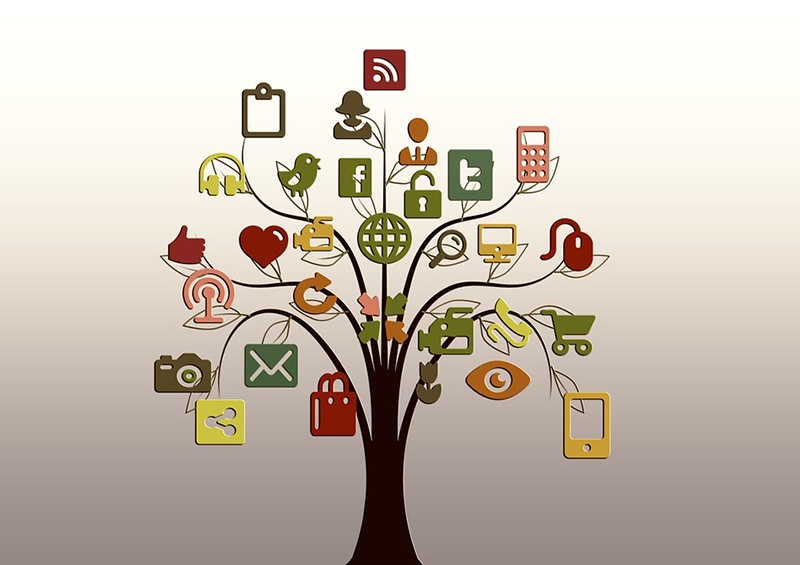 Website design and development was once reserved for the technical community. A layman didn't need to know what a domain was for, much less register one.
Just less than a decade ago, you needed to know how to code in order to build a website. With Wix, Squarespace, Shopify and a host of other WYSIWYG options, anyone can produce a website from scratch these days.
User-friendly content management systems (CMS) have made it possible for all of us "regular Joes and Janes" to produce professional-looking websites with great ease and speed.
According to industry data, a total of 334.6 million domain names were registered worldwide in the second quarter of 2016, across all top-level domains (TLDs - more on this later).
It is pretty obvious why companies need domain names. You need one before you create your website. However, to establish a strong online presence and identity, domain registrations do require some planning and strategy.
This is a step-by-step guide on how to register your domain name in Singapore.
But first, the basics.
What is a domain name?
Computers connected to the Internet are identified by a unique series of numbers called an IP (Internet Protocol) address. It is a unique numeric address - a string of numbers that is difficult for most people to remember.
An IP address is like your home mailing address. If someone sends you a letter by postal mail, they must have your physical address. Similarly, an IP address is the physical address of your online presence.
But imagine if you had to remember something like "67.195.160.76" every time you wanted to connect to yahoo.com, it would be a giant pain! In 1983, the Domain Name System (DNS) was invented to help people connect to specific computers and content.
A domain name is the name of your website - it is where other people can find you online.
Businesses often register domain names with their company name (e.g. amazon.com, bmw.com, samsung.com) while individuals often register their names or other words/names that have personal meaning (e.g. hillaryclinton.com or michaelmoore.com). Businesses that only operate locally in Singapore may also choose to localize their domain with .sg (britishcouncil.sg, smeloan.sg) or with .com.sg (www.thebodyshop.com.sg, famous-amos.com.sg)
What's in a domain name? Let's have a look at its structure.
Take, for example, constructdigital.com. The first part constructdigital is the Second-Level Domain (SLD) and .com is the Top-Level Domain (TLD), also commonly known as the "domain extension". Together they make up what is called the domain name.
How to register a Singapore Domain Name
Step 1: Selecting and checking your domain name
Selecting a good domain name for your website is extremely important. Once you choose and go public with one, you'll likely have to keep it for a long time.
Here are some tips on choosing a good domain name:
Choose a domain name that reflects your business.
Choose a domain name that can be a brand.
It must be easy to pronounce if you want it to be easily remembered.
.com or .com.sg are still the gold standard - always go with those if possible.
Make it as short as possible.
Don't use one that could infringe on others' trademarks.
If your ideal SLD isn't available, be creative without compromising your brand.
A domain name should ideally be intuitive - people should be able to quickly figure out what you do.
If you've already chosen the first part of your domain name (SLD), the next step is to decide on which extension to use.
The .sg domain has nine extensions as per below. Make sure you can legally use the extension you'd like.
.sg: This category is available to all with a valid Singapore postal address. A foreign applicant may apply for a domain name in this category as long as it appoints a local agent having a valid Singapore postal address as the Administrative Contact.
com.sg: Applicants registering for a .com.sg will need to be either registered, or in the midst of registering, with the Accounting & Corporate Regulatory Authority (ACRA), IE Singapore or any professional body. A foreign company which has not registered may only apply for a .com.sg domain name if it appoints a local agent as the Administrative Contact. This local agent shall be a legal entity that is similarly registered by any of the afore-mentioned organisations and is duly authorised by the foreign company.
org.sg: Names under .org.sg are only available to organisations which are either registered, or in the midst of registering, with the Registry of Societies (ROS). Town councils, community centres, places of worship, embassies and any other organisations not classified elsewhere could also apply for this extension.
edu.sg: Only educational institutions may apply for this category. Applicants must be registered with the Ministry of Education (MOE) in Singapore.
gov.sg: Applicants for this category must be members of the Singapore government.
net.sg: Applicants for this category must be a provider operating infocomm networks or providing infocomm services, and/or providing data storage facilities or hosting services.
per.sg : This category is for the registration of personal domain names.
新加坡: This category is the Chinese language equivalent of the .sg category. The same eligibility criteria apply.
சிங்கப்பூர்: This category is the Tamil language equivalent of the .sg category. The same eligibility criteria apply.
Now that you've selected a domain name, it's time to check if it's taken.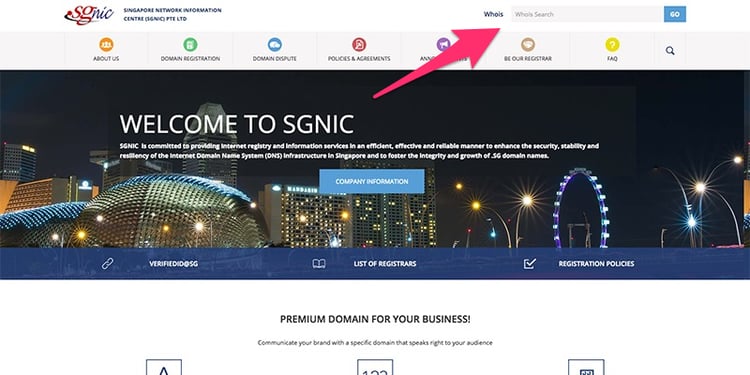 To do that in Singapore, simply go to www.sgnic.sg and key in the domain name in the "Whois" box. If the search returns a "Domain Not Found", it means the domain name is available for registration, subjected to SGNIC's Registration Policy and Procedures Guidelines.
Step 2: Choosing a registrar
In Singapore, you can register your .sg domain name with any of the below registrars accredited by Singapore Network Information Centre (SGNIC).
There are also many external registrars, both in Singapore and overseas.
Domain registrars' fees vary (most range between $50-80/year for .com.sg or .sg; non-Singapore specific names such as .com or .net go for much cheaper, around $7-15/year), depending on whether they include other value-added services such as website and email hosting services.
Godaddy.com is the world's largest domain-name registrar with over 14 million customers worldwide. They have about 62 million domains under management and offers excellent 24/7 customer care.
Through sg.godaddy.com, they offer .com registration starting as low as $1.53/month for the first year. The promotion offers an Email Starter Package and either Website Builder Personal Plan or Online Store Plan (as selected by customer). GoDaddy also offers value-added services such as web hosting, email and web security services.
You can register .sg domain names for as little as $9.99 for the first year, if you register for two years or more. Additional years will be priced at $80.99. One downer is that GoDaddy does not currently offer registration services for .com.sg (as of November 2016).
Another popular option is hostpapa.sg. It offers free domain registration for one year if you sign up for basic plan at $4.95/month. It includes services for hosting two websites, 100 email accounts and disk space of 100GB.
Other top-rated services in Singapore include www.singhost.net (offers domain registration for .sg and .com.sg starting at $60/year) and www.webvisions.com ($50/year for .com.sg and .sg names).
Ultimately, the way domain registrars make money is through cross-selling of other services such as web hosting and email services. As you might expect, they don't make much from the actual sales of domain names. So, there's very little separating each registrar aside from price and website usability.
Branding implications of .sg and .com
There is a big difference in cost between .com and .sg so you may want to think about how important it is to have the Singapore element in your domain name before making that commitment to an .sg or .com.sg TLD (top-level domain).
If you run an online shopping site mostly catering to local customers or you wish to create a blog or personal website that is Singapore-centric, then .sg would be a good choice.
But, given that .com domain names can cost as little as under $10 a year, while .sg or .com.sg could set you back as much as $80 per annum, many people go with .com even though the business is located in Singapore.
Savvy businesses will also want to consider the impact of the .sg extension (aka ccTLD) vs the .com alternative for Google SEO. According to a study on ccTLDs on Moz, users are aware of the geography that ccTLDs suggest. That alone makes a difference in SEO.
Google has not made any specific pronouncements on the importance of .sg domains to local businesses. However, Google has stated that: If your site has a country-coded top-level domain (such as .ie or .fr), it is already associated with a geographic region (in this example, Ireland or France).
What this means is that if your customer searches from www.google.com.sg, having a .sg or .com.sg ccTLD hints to Google that your content target Singapore audiences and is more relevant. However, this doesn't mean that your site will automatically rank higher than a .com as there are many more factors involved in determining a SERP position.
Another case when you should opt for a .com.sg name is when you want to open a Singapore branch of an international company. This allows you to highlight the presence here in Singapore while simultaneously providing you with a platform to insert localised content.
Also bear in mind the local regulations in terms of using .sg or .com.sg (see details under Step 1).
Should you buy all the domain name extensions for your website?
When you search for the availability of your prospective domain name on registrars' websites, they'll also soft-sell you on buying other extensions of your domain name.
Say your domain name is domainscaretactic.com. Most domain registrars will suggest a long list of other extensions for the SLD:
domainscaretactic.net
domainscaretactic.biz
domainscaretactic.info
domainscaretactic.care
domainscaretactic.club
The list goes on and on…
The main purpose of buying other extensions is to protect your brand. For instance, if your brand becomes a household name in the future, you may want to control over a couple of these extensions (e.g. .net or .biz) for future protection.
Purchasing domain extensions will also give you options later if you plan to develop more sites under your brand (e.g. you could use the .net extension for a company blog).
These will come in handy as they could be used to boost your search-engine ranking for your branded terms. Embarrassing situations could potentially be avoided if some people write negative reviews/blogs about your company under these extensions. This unfortunate practice seems to be rather common in the Internet these days.
Protecting your brand is very important. But if you're just starting up and your brand isn't widely recognised yet, it doesn't make much sense to purchase all these domain extensions from the get-go. This is especially so if you're operating on a tight budget. For most new brands, the cost of purchasing more extensions might outweigh the benefits.
Just think of it as a scare tactic by domain registrars to get you buy more extensions. When your brand has more public exposure and starts to receive more recognition, you can always purchase more extensions if necessary.
What if the .com I want isn't available?
There are a few options.
Go with a .co or .io. Here are some examples of famous domains with .co and .io

Suffix generic words like "hq", "app" or words to prompt action like "get". Here are some examples:
There are myriad ways to get the domain name that you want even if the exact name or keywords are taken. Don't be discouraged if the first few names that you come up with are not available. Even companies like Facebook or BMW don't get its current household name on the first try.
There are also numerous online services such as domainr.com, www.domainsbot.com or www.namemesh.com that can help with the ideation process.
Final words...
As more and more people register domain names all over the world, getting your first-choice domain name might be rather frustrating. Your ideal SLD or extension may already be taken.
Before getting exasperated, consider your budget and the trajectory of your brand. If your company and brand are in their infancy, it might be worth thinking creatively for a new SLD instead of attempting to purchase your ideal choice from its current owner.
In terms of domain extensions, the strongest and most popular one is still .com - this is the extension you should buy above all others. You may also want to buy the .sg or .com.sg, if you'd like to control the local handle as well.
You could also consider .co, .biz, .net, .shop or .info, depending on your line of business. That said, with the exception of .co and .net, other TLDs might be a bit of a gamble.
Owning many of your domain extensions can be a powerful asset albeit a costly one. If you need options in the future to create more websites, you may want to pick the main extensions up for safekeeping.
Good luck!
Avoid hidden charges and choose the correct payment gateways for your store.
*Ng Wei Leen is a marketer and SEO consultant at Capital Match, who often shares his insights on Search Engine Optimization and online marketing when his schedule permits.
More insights