One of the trickiest parts of marketing is what comes after you create awareness and interest in your brand.
You can release a viral video, write a groundbreaking blog post, or pull off a publicity stunt. But once prospective customers sit up and take notice of your brand, that's when the hard work of keeping them interested begins. You want their business, but you don't want to scare them off by pushing your products into their faces too early.
You need to engage with those hard-won prospective customers. That means continuously building trust and understanding of your brand, up until the eventual purchase.
Why Content Marketing and Email Marketing Go Hand in Hand
If you're in content marketing, then email should be part of your arsenal of marketing tools for keeping prospective customers engaged with your brand.
Email is the preferred channel for marketing communications for 77% of consumers. When people let you email them, it's a sign that they want more content from you. Perhaps they need to be educated on a topic, or they want updates on the latest happenings in your industry.
It's up to you to nudge this interested audience closer and closer towards an eventual purchase. Create emails with useful and highly personalised content, which are 22.2% more likely to be opened.
Here are some important points that you should note when using email to engage prospective customers:
Dos and Don'ts of Using Email to Engage Prospective Customers
1) DO ensure that your content addresses the challenges your prospective customers face
Newsflash: people don't care about your products.
People only care about whether you can solve their challenges or not. So if you want to earn their trust (and money), you need to persuade prospective customers that you understand their challenges and have solutions.
If you're a B2B marketer, you do this by demonstrating your expertise in your field. Even better: add value to your prospective customers by providing links to white papers, emails, or webinars you produced. In this eDM example from the Content Marketing Institute, the Institute empathises with the work challenges faced by content marketers, and directs them to a webinar that offers solutions: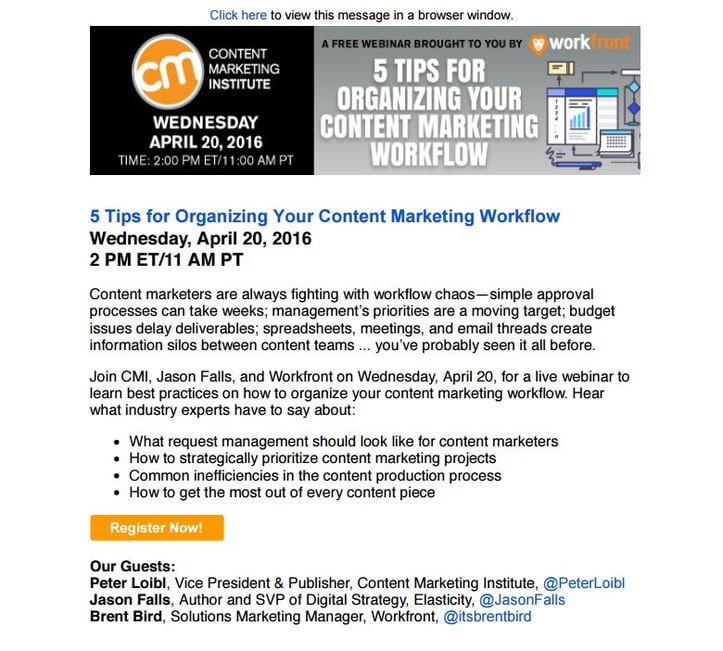 If you're a B2C marketer, the challenges you solve are really meeting your prospective customers' aspirations and desires. If you can identify with B2C buyers' aspirational goals like a desire for status, and show how your product meets those goals, you've got their attention!
2) DO use marketing automation to create targeted emails
Your prospective customers desire familiarity with your brand once you start relationships with them. You can foster this relationship by engaging in a thoughtful and timely manner that is specific to them.
Targeted engagement is possible with marketing automation! Marketing automation is software that monitors leads i.e. prospective customers and automatically engages with them. When it comes to using email to nurture prospective customers, marketing automation can help you:
Segment your prospective customers. Different types of prospective customers have different needs and challenges. For example, marketing directors tend to be more concerned about ROI and business strategy, while marketing executives tend to be more concerned about the tactical aspects of marketing. To avoid emailing content that only marketing directors would care about to marketing executives, you need to keep both groups separate! Marketing automation like HubSpot can help you segment different types of prospective customers into various distinct lists.

Nurture prospective customers with follow-up emails. Marketing automation can be configured to automatically send content specific to the needs of the people in each list. Basic settings allow you to set the dates and time intervals between each email. More advanced settings let you automatically send emails when your prospective customer displays certain behaviours. For instance, visiting the case studies page triggers a sales email.
The most successful marketers use marketing automation to engage their prospective customers. Automated emails have a 119% higher open rate than broadcast emails. 80% of marketing automation users also found that their number of prospective customers increased, and 77% saw a rise in the number of conversions.

3) DO ensure that you have an option to unsubscribe
It's inevitable when it comes to email marketing: some people lose interest and want to unsubscribe.
Let them. But at the same time, you can still engage them!
Use the email breakup as an opportunity to ask for feedback on the emails you've been sending. Are your readers unsubscribing because of too many emails, emails that come too frequently, or is the content just not interesting enough?
Alternatively, inject a little humour or wit so that those who unsubscribe leave with a positive view of your brand. Check out these nine email unsubscribe pages that put a creative twist to the email breakup for inspiration!
4) DON'T be too salesy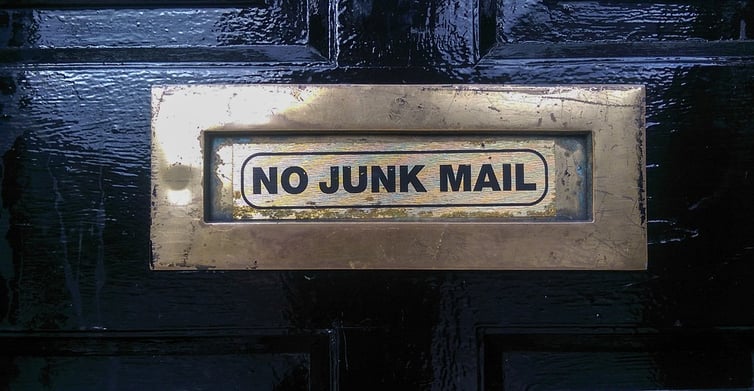 Sending only sales-related email to your prospective customers is a big turn-off.
Your emails are competing against emails from your prospective customers' colleagues, bosses, clients, family and friends. If you are a new brand to them, why should they care about your products? Too much hard sell and your prospective customers will just unsubscribe.
Here's a good solution from Gloria Rand: follow the 80/20 rule.
80% of your emails should provide helpful and original content related to your industry. B2B marketers can provide templates, webinars, and white papers that establish their brands as industry experts. B2C marketers can offer tutorials that make people look or feel gorgeous, or drool-worthy curated content from around the web.
The remaining 20% can be sales-related. Pro tip from HubSpot: Based on their study of over 20 million emails, the best time to send sales emails are on Tuesdays at 11am EST. More best practices for writing effective sales emails here.
5) DON'T forget to get clear consent from prospective customers before collecting their personal data
People hate receiving unsolicited email.
If they realise they are getting emails from you that they never signed up for, they might consign all communications from you to the spam folder. Worse, they might lodge a complaint against you for non-compliance with the Personal Data Protection Act.
Marketers in Singapore should therefore familiarise themselves with the Personal Data Protection Commission's Advisory Guidelines on Requiring Consent for Marketing Purposes. In a nutshell:
Give prospective customers the option whether or not they consent to receiving marketing materials like email from you.

Inform them upfront about what exactly they are signing up for.

Ensure that what they are signing up for is for a valid purpose. An example: you cannot ask people for their date of birth or marital status if all they want is email updates on the latest industry trends.
All these should be made clear on the landing pages where your prospective customers exchange their contact details in return for content from you. You might want to include this sample consent clause for the sending of marketing material. Or take a leaf from HubSpot's assurance to keep personal details safe:

6) DON'T forget to have a sales end-goal in mind
At the end of the day, your email marketing campaign should nudge as many prospective customers as possible towards a purchase.
Close collaboration with your sales team is necessary for this. Sales and marketing need to define:
What does a successful end-goal look like? Make sure this goal fulfills the SMART requirements!

What kind of content should be included in the emails? Insights from the sales team is necessary, as the sales team interacts with customers often enough to know they want.

What kind of metrics should be used to track the progress of your emails? These metrics should reflect marketing's contributions to customer acquisition, revenue, and other crucial business outcomes.
Ultimately, better sales and marketing alignment will result in improved customer acquisitions and ROI for both.
No Content Marketing Strategy is Complete without Email
There are many things to consider for an engaging email marketing campaign: from the user experience to the visual design to the HTML code. In this blog post, I've focused on just the content aspect, and identified six key dos and don'ts for successful email marketing:
Do ensure that your content addresses the challenges your prospective customers face.

Do use marketing automation to create targeted emails.

Do ensure that you have an option to unsubscribe.

Don't be too salesy.

Don't forget to get clear consent from prospective customers before collecting their personal data.

Don't forget to have a sales end-goal in mind.
When done well, email can give you an ROI of 4,300%. Now that's good enough reason to master the art and science of email!
Image Credits & Sources
Header image: Business photograph designed by Creativeart - Freepik.com
Body image: cattu